Complete Story

February 2014 OPA Extern Profile: Maria Biasella
Maria Biasella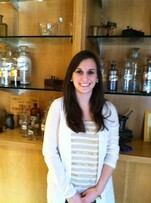 E-mail: biasella.4@buckeyemail.osu.edu
Pharmacy School: The Ohio State University
Undergraduate degree/institution: Bachelor of Science in Pharmaceutical Sciences/The Ohio State University
Rotation Month at OPA: February 2014
How did you get interested in the profession of pharmacy?
Medicine has been of interest to me since the beginning of high school. When I entered college, I was drawn to pharmacy because I saw it as the perfect combination of science and patient care. Being a pharmacist allows me to use my medication knowledge base and translate it to taking care of patients. It is a very rewarding experience to know that my degree is capable of helping patients, with diverse backgrounds and medical conditions, on their own path to better health.
Why did you choose OPA as a rotation site?
I chose OPA as a rotation site because it offered me a different side of pharmacy that I had not been exposed to during my previous years as a student pharmacist. In the classroom, we learn ways to protect the patient through drug utilization reviews, proper counseling techniques, medication safety etc. I strive to educate myself about the "big picture" of pharmacy. This rotation at OPA allows me to learn and experience what integral measures are taken to protect the profession of pharmacy through advocacy and legislation.
What was the most significant or surprising experience at OPA?
The most significant experience I had at OPA happened very early on in my rotation. Throughout pharmacy school, I had not been involved with the legislative side of pharmacy in Ohio. Through this rotation I have had first hand experiences at the statehouse and was able to interact with passionate pharmacists, state senators, and state representatives on important issues that impact our pharmacy profession. The most surprising aspect of this rotation was my realization of how integral each individual pharmacist can be in promoting and evolving pharmacy. I have had the privilege of being exposed to many house and senate bills this month and I could not be more excited to continue to be involved with these issues after I graduate and begin my career.
What other pharmacy associations/organizations do you belong to?
Rho Chi Honorary Society
Phi Lambda Sigma Leadership Society
Hobbies:
Hanging out with family and friends
Learning how to cook
---