Complete Story

2013 Pharmacy Legislative Day: One of the Best
On October 30, more than 100 pharmacists and student pharmacists descended upon downtown Columbus to work towards positive change for the profession of pharmacy. The 2013 Pharmacy Legislative Day, which was co-hosted by the Ohio Society of Health-System Pharmacists (OSHP) and sponsored by the American Pharmacy Cooperative, Inc. (APCI), was one of our largest and most successful advocacy events ever!
The day began with an added bonus for attendees. Right before the beginning of the program, pharmacists and student pharmacists headed over to the Ohio Statehouse to attend the Senate Medicaid, Health & Human Services Committee meeting to witness the hearing for SB 79, a bill aimed at expanding immunization rights for pharmacists and pharmacy interns. At that hearing, Uptown Pharmacy's Jarrett Bauder and Kroger Pharmacy's Tara Green gave proponent testimony in support of the bill. It was a fantastic way for attendees to see the legislative process in action, as well as to watch their colleagues advocating for the profession.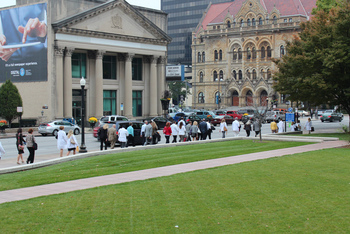 Afterwards attendees headed to the Sheraton where OPA staff conducted advocacy training and reviewed several pieces of key legislation for OPA and OSHP. These issues included SB 79, emergency dispensing, consult agreement expansion, custom fitting of diabetic shoes, and PBM regulation. Later several legislators spoke on pharmacy bills that they are sponsoring. They included Rep. Jeff McClain (R-Upper Sandusky), Rep. Kristina Roegner (R-Hudson), Sen. Dave Burke (R-Marysville), and Senate Minority Leader Eric Kearney (D-Cincinnati).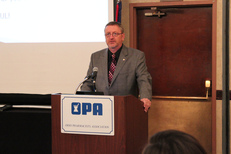 After a briefing on the issues and lunch, attendees headed to the Statehouse to meet with their legislators to encourage support for these important pieces of legislation. The pharmacists and student pharmacists also roamed the Statehouse to sit in on committee hearings, and to attend House and Senate sessions. Afterwards, everyone returned to the Sheraton to report on their meetings and discuss the conversations they had with their legislators.
In total, our more than 100 attendees met with more than 50 senators and representatives to push for pro-pharmacist legislation – all in one day of advocacy!
If you are interested in getting involved in our advocacy efforts, please contact OPA's Director of Government & Public Affairs Antonio Ciaccia at aciaccia@ohiopharmacists.org.
---