Complete Story

Legislation re-introduced to end PBM co-pay clawbacks & gag orders!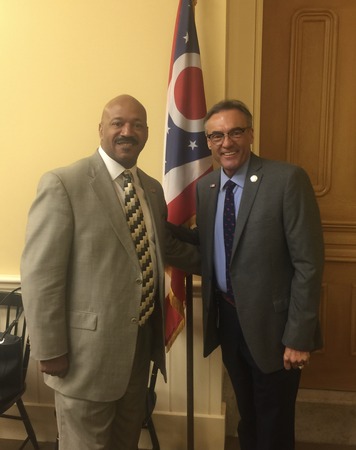 The fight to lower drug costs for Ohioans isn't over yet. The Ohio Pharmacists Association (OPA) is pleased to announce that Representative Scott Lipps (R-Franklin) and Representative Thomas West (D-Canton) are again aiming to end a secretive practice that is causing patients to pay more than they should at the pharmacy counter. Specifically, they announced this week that they have introduced HB 63, legislation that would prohibit co-pay clawbacks and pharmacist "gag orders" that stand in the way of lower prices for patients at the pharmacy counter. Additionally, newly-elected Senator Tina Maharath (D-Columbus) companion legislation, SB 14, over in the Senate this week as well!
In the previous General Assembly, Reps. Lipps & West's HB 479, dubbed the "Prescription Drug Co-Pay Integrity Act," sought to prohibit the practice of pharmacy benefit managers (PBMs) requiring pharmacists to charge patients an amount greater than the pharmacy's cash price for a particular prescription drug. Second, the legislation would have prohibited "gag clauses" that some PBMs place in pharmacy contracts that penalize pharmacists for disclosing a complete picture of the financials of a patient's prescription drug transaction. Reps. Lipps & West have reintroduced the language in HB 63. Sen. Maharath's bill has been designated as SB 14.
This issue has received significant attention in the media in recent years, and it all started with a 2016 investigative report from a news station in New Orleans. Similar legislation has already been passed in more than a dozen states. The practice has resulted in more than 16 lawsuits across the country, as well as federal prohibitions on gag clauses signed into law by President Trump in October 2018.
As prescription drug prices continue to grow, 6 in 10 Americans say lowering the cost of prescription drugs should be a "top priority" for lawmakers. In Ohio, despite the failure of the unworkable "Drug Price Relief Act" (Issue 2), a message was sent that something must be done to get drug pricing under control. OPA has worked extensively with lawmakers to address out-of-pocket expenses for patients and to shed light on a problem that OPA members have said must be stopped.
Last year, OPA stood alongside Reps. Lipps & West, and Holly Pendell, director of advocacy and activist engagement for the National Multiple Sclerosis (MS) Society, to announce the bill's introduction. To view that press conference in its entirety, see the Ohio Channel's video HERE. To view the discussion of the bill on the House floor, see the Ohio Channel's video HERE.
It's no secret that OPA has been very outspoken about the problems with prescription drug pricing (see here, here, here, and here). The Columbus Dispatch has spent a full year pulling back the drug pricing curtain in a special Side Effects investigative series that is exposing millions of dollars in drug pricing waste. We've spent a great deal of time working to reform a broken system that rewards big supply chain middlemen and results in higher drug costs for employers, taxpayers, and patients. The "Prescription Drug Co-Pay Integrity Act" is just one attempt at ensuring that patients aren't paying any more than they have to for their needed medications.
"We remain determined to expose and stop the malicious and greedy practices utilized by PBM's to hurt our citizens and Ohio's budget. We are excited to reintroduce House Bill 479, from the 132nd General Assembly, which eliminates gag rules and clawbacks. Governor DeWine and his administration are keenly aware of the millions of dollars PBMs have siphoned out of Ohio. It is time for all of us, including the Legislature, Managed Care Organizations (MCO's) and Medicaid to work together and FIX this," said Rep. Lipps.
"Consumers shouldn't be priced out of their health care, especially when cheaper options are available," said Senator Maharath.
"The clawback is just the one example of PBM tactics that deceive patients, inflate the cost of prescription drugs, and line the pockets of administrative middlemen," said OPA Executive Director Ernie Boyd. "Pharmacists should not be prohibited from empowering patients to save money, and PBMs should not profit off of the over-inflated co-pays that they set for patients at the pharmacy counter. It's wrong."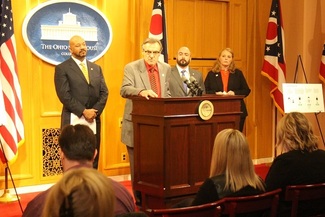 Last year, HB 479 passed the House unanimously, but the legislature closed before we could get it through the Senate. Its House passage last year followed a recent announcement from the Ohio Department of Insurance (ODI), which has now effectively prohibited PBMs and/or health insurers from engaging in each of the following practices:
Prohibiting any person, directly or indirectly, from informing, by any means, an individual about less expensive ways to purchase prescription drugs that may also be available under any insurance policy or benefit plan.
Requiring cost-sharing in an amount, or directing a pharmacy to collect cost-sharing in an amount, greater than the amount an individual would pay for the prescription drug if the drug were purchased without coverage under a health benefit plan.
For a complete ODI Bulletin that contains the exact language and rationale, CLICK HERE.
"Needlessly charging Ohioans more for their prescriptions by keeping them in the dark is not defensible," Ohio Department of Insurance Director Jillian Froment added. "We are empowering consumers with more information and helping pharmacists provide their customers with more transparency and potentially cheaper options."
This new legislation from Representatives Lipps & West and Senator Maharath will build upon ODI's edict, and furthermore, it will codify the language in Ohio law.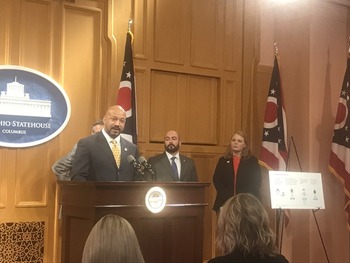 For more information and resources on PBM clawbacks and pharmacist gag orders, review the links below:
Lawmakers resume push for transparency, end to gag rules by pharmacy middlemen - Columbus Dispatch, 2/12/19 *OPA member Senator Dave Burke quoted
Maharath introduces drug price transparency, safe drug disposal bills - Office of Senator Tina Maharath, 2/12/19
Rep. Lipps announces re-introduction of pharmacy benefit manager bill - Office of Representative Scott Lipps, 2/11/19
Drug middlemen charging Ohioans triple the going rate — or more, Columbus Dispatch, 6/27/18 *OPA member Senator Dave Burke & OPA's Antonio Ciaccia quoted

Ohio House approves patient-friendly legislation that increases price transparency for prescription drugs, Ohio House of Representatives Majority Caucus Blog, 6/27/18
West's bipartisan bill to lower cost of prescription drugs passes Ohio House, Ohio House of Representatives Minority Caucus Blog, 6/27/18
Editorial: State should stand up for consumers against abuse by PBMs, Columbus Dispatch, 6/10/18

Gag orders, clawbacks, PBMs and how they affect your medication costs, Health Matters Radio Show, 6/4/18 *OPA members Paul & Brad White interview OPA's Antonio Ciaccia
Looking for lower Medicare drug costs? Ask your pharmacist for the cash price, Kaiser Health News, 5/30/18 *OPA member Nick Newman quoted
House committee OKs crackdown on pharmacy-benefit managers - Columbus Dispatch, 5/23/18 *OPA government affairs director Antonio Ciaccia quoted
Trump plans to end 'total ripoff' gag rule on drug prices for Medicare plans - Washington Examiner, 5/11/18
Rule by intimidation: The contract keeping pharmacists quiet - Beyond Type 1, 4/18/18 *OPA government affairs director Antonio Ciaccia interviewed
Ohio cracks down on PBMs - Drug Topics, 4/12/18 *OPA government affairs director Antonio Ciaccia interviewed
Ohio legislators hear support for bill seeking transparency in prescription pricing - Columbus Dispatch, 4/10/18
Nationwide patient organization endorses Ohio bill to lower drug prices - Patients For Affordable Drugs, 4/9/18
Ohio bans 'gag orders' on cheaper cash prices for prescriptions - Columbus Dispatch, 4/4/18
Consumers could save on prescriptions after Ohio bans 'gag orders' - Dayton Daily News, 4/4/18
Ohio regulator orders insurers, benefit managers to give lowest drug price - Reuters, 4/4/18
Lawmakers consider bill to allow pharmacists to warn customers of overcharges - NBC4i Columbus, 3/23/18
Bill targeting pharmacy benefit managers gets first hearing in Ohio House - Columbus Dispatch, 3/20/18
OPA Executive Director Ernie Boyd on paying cash for your med's versus using insurance - 610 WTVN, 3/18/18
Regulators take aim at companies blamed for higher prescription drug prices - Akron Beacon Journal, 3/18/18 *OPA Executive Director Ernie Boyd quoted
USC study explores the 'copay clawback' phenomenon - University of Southern California, 3/13/18
Holly Pendell: Ohio House bill aligns drug prices with cost - Columbus Dispatch, 3/8/18
Why your pharmacist can't tell you that $20 prescription could cost only $8 - The New York Times, 2/24/18
Trending now: State legislation that bans pharmacy benefit managers' "gag clauses" - National Academy for State Health Policy, 1/30/18
Canton-area lawmaker targets pharmacy clawbacks - WOIO 19 Cleveland, 1/25/18
New bill calls for more transparency in drug prices - Dayton Daily News, 1/25/18 *OPA member Doug Anderson quoted
Ohio lawmakers going after pharmacy benefit managers - Columbus Dispatch, 1/24/18 *OPA government affairs director Antonio Ciaccia quoted
Effort to lower drug costs would allow pharmacists to tell about cheaper options - WSYX/ABC6 Columbus, 1/24/18 *OPA government affairs director Antonio Ciaccia interviewed
Ohio lawmakers consider new legislation to reduce drug prices - Statehouse News Bureau, 1/24/18
Press conference - Discussing prescription drug legislation - The Ohio Channels, 1/24/18 *OPA government affairs director Antonio Ciaccia lays out the association's case for HB 479
Reps. Lipps, West discuss newly introduced legislation regarding prescription drug affordability - Ohio House of Representatives Majority Caucus Blog, 1/24/18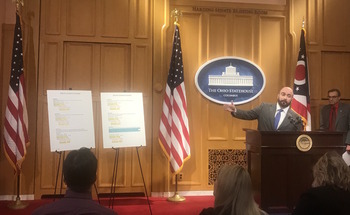 Prescription drugs may cost more with insurance than without it - The New York Times, 12/9/17
NBC News Investigation: Prescriptions may be cheaper without insurance - NBC News, 10/16/17
Time to lift the curtain on PBM wheeling and dealing - Managed Care Magazine, 9/29/17
Study finds Medicare 'DIR fee' legislation would save government billions - National Community Pharmacists Association, 9/28/17
Want to bring down drug prices? Go after the middleman - The American Prospect, 8/11/17
A startling lawsuit against CVS could blow up what you thought you knew about drug prices - Business Insider, 8/8/17
The 'clawback': Another hidden scam driving up your prescription prices - Los Angeles Times, 8/9/17
Pharmacy 'clawbacks' targeted in latest state law aimed at PBMs - Bloomberg News, 7/11/17
The hidden monopolies that raise drug prices - The American Prospect, 3/28/17
You're overpaying for drugs and your pharmacist can't tell you - Bloomberg News, 2/24/17
Sticker shock at the pharmacy? There's more than meets the eye - Antonio Ciaccia via Cleveland Plain Dealer, 12/11/16
Middlemen drive up prescription drug prices, critics say - Columbus Dispatch, 10/23/16 *OPA government affairs director Antonio Ciaccia quoted

Uncovering the group driving up the cost of medication - 10TV Columbus, 7/19/16 *OPA Past President Ray Carlson and anonymous OPA members interviewed
Filling a prescription? You might be better off paying cash - Kaiser Health News, 6/24/16
The great big prescription drug clawback - National Community Pharmacists Association, 5/20/16
---