Complete Story

2016 PAC Breakfast Speaker Announced!
The Ohio Pharmacists Association is pleased to announce that
Representative Stephanie Kunze (R-Hilliard)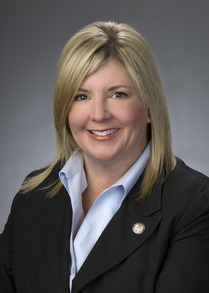 Will be our special guest speaker at the 2016 PAC Breakfast!
State Representative Stephanie Kunze is serving her second term in the Ohio House of Representatives. She represents the 24th Ohio House District, which includes portions of western and southwestern Franklin County. She recently won the Republican primary for the Ohio Senate's 16th district.
Representative Kunze chose Ohio as a place to call home more than twenty years ago when she met her husband, Matt, who was earning his degree from The Ohio State University. Representative Kunze graduated from Indiana University in Bloomington with a BA in English. She has a passion for advocating for small businesses and entrepreneurs and is a founding member of www.localevelevents.com, which was created to encourage those who live and work in an area to support their local businesses, schools and community. She formerly served as an elected member of Hilliard City Council where she chaired the Recreation & Parks Committee and also served as the DARE Liaison for Council.
As State Representative, she is a key member of the Finance Committee, Insurance Committee, and Rules and Reference Committee, as well as the Finance K-12 Subcommittee. In addition, Representative Kunze is Vice Chair of the State Government committee. She has served on the Attorney General's DARE Task Force, "Ohio Communities 4 Kids" and as the Central Ohio Honorary Chair of Moving Day, a walk to increase awareness of Parkinson's Disease. She is a member of the Hilliard and Upper Arlington Area Chambers of Commerce, Franklin County Farm Bureau, Upper Arlington Lutheran Church at Mill Run, Hilliard Schools PTO and is a graduate of the Hilliard Citizens Police Academy.
Rep. Kunze is the co-chair of the Ohio Commission on Infant Mortality, which recently released a report on several strategies for combatting Ohio's high rate of infant deaths. Among the recommendations are passage of HB 421, which would empower pharmacists to administer hydroxyprogesterone caproate (a prescription hormone used to lower the risk of preterm birth) and medroxyprogesterone acetate (a prescription contraceptive).
Rep. Kunze has an outstanding record on pharmacy issues, and in this General Assembly, she voted in favor of legislation (HB 116) expanding coverage for medication synchronization services for Ohioans, creating standards for maximum allowable cost (MAC) transparency (HB 64), and expanding the scope of practice for pharmacists (HB 188). Rep. Kunze will discuss these important pieces of legislation, as well as discuss several key issues impacting Ohio.

Join us Saturday, April 16, 2015 at 7:15 AM at the OPA Annual Conference & Trade Show at the Greater Columbus Convention Center.
Visit the Annual Conference page to sign up for the conference, or download this registration form if you wish to sign up for only the PAC Breakfast!
Also, please consider sponsoring a student to attend the PAC Breakfast - it's a great way to encourage students to get involved in the advocacy process!
Minimum contribution for the PAC Breakfast is $100/person, with all proceeds going to the OPA Pharmacy PAC, which provides campaign funds to candidates who support pharmacist initiatives. Checks should be made payable to "OPA Pharmacy PAC." No corporate checks please.
---