Complete Story

October 2015 OPA Extern Profile: Brandon Bourgeois
Brandon Bourgeois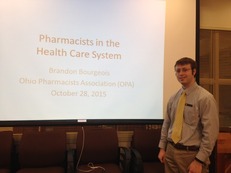 E-mail: b-bourgeois@onu.edu
Pharmacy School: Ohio Northern University (ONU)
Undergraduate degree/institution: n/a, but I am also receiving a BA in Spanish from ONU.
Rotation Month at OPA: October 2015
How did you get interested in the profession of pharmacy?
Originally in high school I was very interested in music or art. I was also very involved with volunteering and service opportunities and assisted a team of nurses at the local hospital. However, I also have an analytical side and I enjoyed chemistry and the sciences. I saw the variety of professions in the health care industry and thought pharmacy might be a good match for my interest in chemistry. I shadowed a community pharmacist at a local Walgreens Pharmacy periodically throughout my senior year of high school, and saw the benefit of the services provided and was astounded at the vast array of knowledge the pharmacist had. I applied to Ohio Northern University and began in their pharmacy program.
Why did you choose OPA as a rotation site?
As I began college I slowly began to develop a curiosity and interest in government and regulatory affairs, especially as at that time health care reform efforts were gaining significant attention. At ONU we were introduced to various pharmacy organizations and Ernie Boyd from OPA spoke to our class. I voted for the first time later that year and began researching how local, state, and the federal government function and interact as well as the effect they have on our daily lives. I attended a few of OPA's legislative days and really enjoyed serving as an advocate for the profession of pharmacy. I have also attended OPA's Annual Conference and Trade Show and really enjoyed the atmosphere and culture of the organization, and I share a passion for the important work they are involved with for pharmacists and pharmacy-related groups.
What was the most significant or surprising experience at OPA?
I really enjoyed the opportunity to have lunch with the Ohio Board of Pharmacy during their monthly meeting. I also enjoyed advocating down at the Statehouse. I especially enjoyed meeting with Rep. Robert Sprague regarding the idea to allow pharmacists to administer long-acting injectable antipsychotics. He liked the idea so much that he said he wanted to introduce a bill on it. This certainly shows that legislative advocacy can have a big impact, and that anyone can make a difference if they reach out to their lawmakers, because they are definitely listening. It was also an interesting experience to take part in the emergency/disaster response exercise in coordination with the Ohio Department of Health (ODH) and the Ohio Emergency Management Agency (OEMA). This was an eye-opening experience where an extremely destructive tornado was simulated, causing widespread damage and mass casualties. In the simulation, emergency responders were to rescue the victims, with a variety of injuries and ailments inflicted by damage from the storm. It's worthwhile seeing training exercises in action and having pharmacists be prepared for when these situations occur.
What other pharmacy associations/organizations do you belong to?
At ONU I have been a member of Phi Lambda Sigma (Pharmacy Leadership Society, PLS, ΦΛΣ); Academy of Student Pharmacists (ASP, affiliate of American Pharmacists Association (APhA)) where I was Co-Chair of our inter-professional Spanish health fair Azúcar and where I served on the Political Action Committee; Student Society of Health-System Pharmacists (SSHP, affiliate of American Society of Health-System Pharmacists (ASHP)) where I served as a member of the Outreach Committee; and the Academy of Managed Care Pharmacy (AMCP). I have also been a member of OPA and APhA, and ASHP at the state and national levels.
Hobbies:
I enjoy playing piano and have played since I was 8. I try to stay physically active and enjoy biking and going on walks. I also enjoy reading and staying current with what's happening in the world. I'm active with my activities in my church and at ONU, and enjoy being involved with social activities with my friends. I also like playing with my cats at home.
---