Complete Story

April 2015 OPA Extern Profile: Madhuri Somaraju
Madhuri Somaraju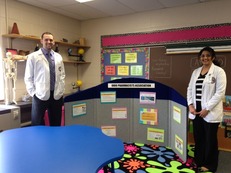 E-mail: Somaraju.1@osu.edu
Pharmacy School: The Ohio State University College of Pharmacy, Columbus, OH
Undergraduate degree/institution: BS in Cell and Molecular Biology /Winona State University, Winona, MN
Rotation Month at OPA: April 2015
How did you get interested in the profession of pharmacy?
With both of my parents being physicians back home, I was always interested in the medical field. I chose pharmacy because of my interest in chemistry and science. I earned a bachelor of pharmacy degree from Manipal College of Pharmaceutical Sciences, Manipal, India. I graduated in June 2004 and came to the USA in January, 2005 after marriage. Due to changes in regulations for licensure, I learned that I was not eligible to apply for licensure with a 4 year foreign pharmacy degree. I also learned that I needed to have a PharmD to be licensed and all the four years of my pharmacy school experience is not considered. At this point, I was determined to be a licensed pharmacist and practice pharmacy no matter what it takes to be one. I started working towards fulfilling the requirements for PharmD and completed BS in Cell and Molecular Biology from Winona State University, MN. And here I am doing my last rotation at OPA and soon to be a pharmacist!
Why did you choose OPA as a rotation site?
I chose to apply for rotation at OPA due to my curiosity to explore pharmacy behind the scenes. I wanted to learn how bills are passed and understand the process of legislation. I wanted to learn more about policy and advocacy. I enjoyed the advocacy elective class in my third year of pharmacy school, and learned that OPA plays a key role in protecting pharmacists and the profession. I wanted to be part of it and see how OPA operates in playing an incredible role in advocating for the profession as well as contribute my part in advocacy to the best of my ability.
What was the most significant or surprising experience at OPA?
Each day of the rotation at OPA was unique, interesting and challenging. The most surprising experience was when Antonio mentioned that I had to reach out to my legislators and explain the current pharmacy issues in legislation. I truly appreciated the opportunity which allowed me to represent the profession and discuss various bills with the legislators and convince them to support us. The most significant experience was being part of the OPA Annual Conference and seeing it from behind the scenes, and also the amount of writing and editing experience I gained at OPA. I had the opportunity to hone my writing skills which I feel is the most critical for a pharmacist. As pharmacists, we are very detail-oriented and editing journal articles and CE articles really help with that.
What other pharmacy associations/organizations do you belong to?
APhA, SNPhA
Hobbies: Spending time with family especially playing with my son, cooking, last but not least shopping!
---