Complete Story

March 2011 OPA Extern Profile: Nathan Evanoski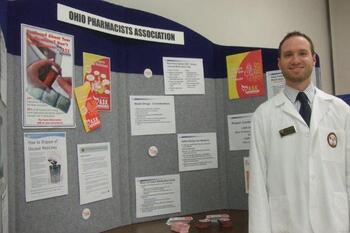 Name: Nathan Evanoski
E-mail: n-evanoski@onu.edu
Pharmacy School: Ohio Northern University
Undergraduate degree/institution: N/A (OhioNorthernUniversity, PharmD)
Rotation Month at OPA: March 2011
How did you get interested in the profession of pharmacy?
My initial interest in pharmacy came from an interest in the healthcare industry. After some research and discussion with other healthcare professionals, I came to find that pharmacy was a perfect fit for what I was looking for in a career. I wanted a career path that led me to patient interaction in my community where I could make a difference in patients' lives. I found pharmacists and their knowledge base to be invaluable to patients and other healthcare providers and I wanted to be a part of it.
Why did you choose OPA as a rotation site?
I initially considered OPA as a rotation site because I wanted to broaden my scope of practice to something outside the clinical field. I also have an interest in the business end of pharmacy. After attending an OPA annual meeting and discussing OPA activities with some of my professors, I determined that it would be a great rotation opportunity to see a completely different area of pharmacy.
What was the most significant or surprising experience at OPA?My most significant experience at OPA was being able to see different parts of the Ohio legislative process and how it affects pharmacists. During my month at OPA, House Bill 93 was being discussed and voted on by the House of Representatives and it had a specific pharmacy impact that I was able to see firsthand. I think that a lot of people, including but not limited to pharmacists, are ignorant of what is going on with legislation and government, and I will admit that at one time I was one of those people. However, my legislative experiences at OPA have opened my eyes up to the processes, and I feel that I am now a more educated person when it comes to legislation.
What other pharmacy associations/organizations do you belong to? APhA-ASP, Phi Delta Chi
Hobbies: Running, cooking, Ohio State Football, Pittsburgh Steelers
---