Complete Story

February 2011 OPA Extern Profile: Anthony Menches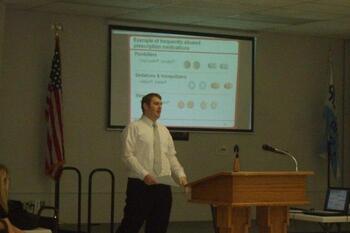 Name:
Anthony Menches
E-mail: Menches.2@buckeyemail.osu.edu
Pharmacy School: THE Ohio State University
Undergraduate degree/institution: BSPS, The Ohio State University, 2007
Rotation Month at OPA: February 2011

How did you get interested in the profession of pharmacy?
My uncle is a pharmacist and my father encouraged me in the same direction. Since I had no clue what to do after high school, I went with my father's recommendation and started down the pharmacy path and just haven't looked back.
Why did you choose OPA as a rotation site?
Ernie Boyd had given a presentation to our class at Ohio State and everything he said seemed to interest me. I made an attempt to go to Washington with him once, but my finances prevented it. Since he spoke, I have been somewhat enamored with OPA and their role in the legislative process. Also, I had an intense consideration of going to law school instead of pharmacy school, so OPA filled the void left by my choice to enter pharmacy and not law.
What was the most significant or surprising experience at OPA? Witnessing a State Board Adjudication hearing was a very different experience. Hearing people try to explain their actions to the Board was quite memorable. I thought that the punishments they rendered were relatively light given some of the offenses; however, most of the people can still face criminal charges.
I was given the opportunity to testify before the Ohio House Health and Aging Committee in support of House Bill 93. House Bill 93 provides language towards reducing prescription drug abuse in Ohio. It places a limit on how much medication a physician can dispense out of his/her office; if they dispense controlled substances, they will have to report them to the OARRS program; and requires terminal distributors' licenses for any pain management clinics to distribute controlled substances. Overall, being part of the legislative process was very enlightening and thrilling at the same time. Standing in front of a group of legislators to deliver testimony and have them ask questions about your testimony can be very intimidating. However, I wouldn't pass up the opportunity to do it again.
What other pharmacy associations/organizations do you belong to?
APhA. I have never been a big organization person (it is a pharmacist tradition not to belong to an organization apparently). I like OPA because of what it does, and how it looks after our interest as pharmacists. For that reason, I will always be a member of the OPA.
Hobbies
I like to play basketball when I get the chance. I am also willing to discuss politics with just about anyone. Other than that, I don't have any hobbies that I am passionate about. I like to hang out with friends, and go to movies.
---