Complete Story

January 2011 OPA Extern Profile: Elaine Boateng
Name: Elaine Boateng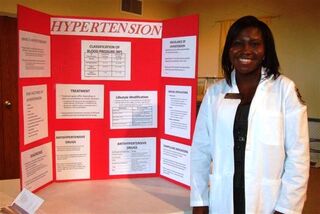 E-mail: elaine.boateng@rockets.utoledo.edu
Pharmacy School: University of Toledo
Undergraduate degree/institution: Bachelors of Science in Pharmaceutical Sciences/University of Toledo
Rotation Month at OPA: January 2011
How did you get interested in the profession of pharmacy? When I was in middle school, I volunteered at a local hospital where I had the opportunity to shadow a pharmacist for a day. That experience exposed me to the field of pharmacy. I always knew that I wanted to have a career in the medical field, but I was not sure of what exactly I wanted to do. Once I learned about the impact that a pharmacist could have in a patient's medical care, I knew then that that is what I wanted to do.
Why did you choose OPA as a rotation site?
This rotation site was assigned to me by my advanced practice director. However, I have had previous experience with different associations and committees within the college of pharmacy throughout my college career.
What was the most significant or surprising experience at OPA?
My most significant experience at OPA would have to be attendance of the various committee meetings such as the DSM Task Force and Legal and Regulatory Committee. By attending these meetings, I was able to observe how the Association forms its opinion on the various issues in the field of pharmacy. I learned about how diverse the field of pharmacy is and the many opportunities that we have as pharmacist to provide various services to our patients. I also realized the importance of being a member of such an organization.
What other pharmacy associations/organizations do you belong to?
I am currently not a registered member of any organizations, but I was previously a four-year officer for the Student National Pharmaceutical Association (SNPhA).
Hobbies:
Shopping (specifically shoe shopping)
Reading
Baking (cakes)
Decorating
---