Complete Story

OPA COVID-19 Vaccines 5/17 Update: Governor DeWine Signs HB 6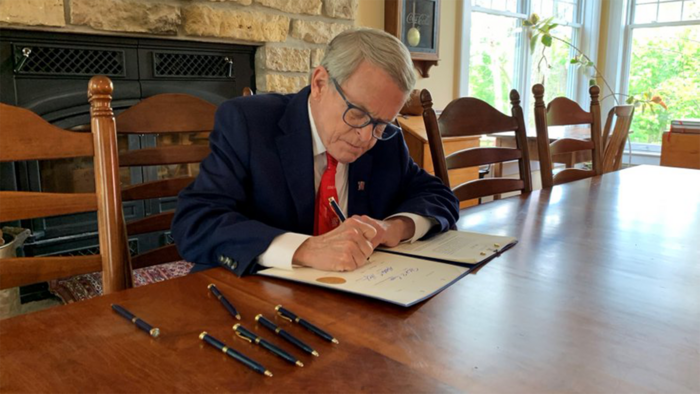 @GovMikeDeWine. "Today I signed House Bill 6, sponsored by Rep. Bill Roemer, which eases burdensome requirements on administering #COVID19 vaccines, increasing the ability of medical professionals and their patients to access lifesaving vaccinations."
https://twitter.com/GovMikeDeWine/status/1393271392276205577/photo/1. Posted May 15, 2021.
Last Friday, Governor DeWine signed House Bill 6 (HB 6) into law, effective immediately, allowing pharmacists increased access to COIVD-19 tests and vaccines, including the ability to order and administer COVID-19 vaccines and tests. More critically, this bill advances previous immunization guidance allowing pharmacists and pharmacy interns to administer the COVID-19 vaccine without a prescription to patients ages 7 and older. OPA would like to thank Governor DeWine and bill sponsor Representative Roemer and cosponsors Representatives Cross, Riedel, Seitz, and Young. OPA Fellow in Policy and Innovation, Myriam Shaw Ojeda, in collaboration with OPA's lobbyists, testified in favor of this bill on behalf of OPA members. OPA is committed to aiding pharmacists in their efforts to fight the COVID-19 pandemic, and this is just one method to widen opportunities for quality patient care.
Pfizer Vaccine Emergency Use Authorization (EUA) for Patients Ages 12 to 15
Ohio patients ages 12-15 are eligible to receive the Pfizer-BioNTech COVID-19 vaccine. Governor DeWine and ODH Health Director Stephanie McCloud announced that Ohio is expanding vaccine eligibility in light of the FDA's EUA for the vaccine regarding this specific age group. According to the guidance from the Board of Pharmacy and per HB 6 that was recently signed into law effective immediately, pharmacists and pharmacy interns can administer COVID-19 vaccinations to patients over the age of 7 without a prescription pursuant to a physician-approved protocol.
Governor DeWine Announces Vaccine Incentives and End Date for Health Orders
Last Wednesday, Governor DeWine announced a series of incentives in an effort to increase the number of vaccinated Ohioans. Ohioans under age 18 who have had at least one dose of the COVID-19 vaccine are eligible for a weekly drawing for a four-year full scholarship to any of Ohio's state colleges and universities, including full tuition, room, and board. Ohioans over the age of 18 are eligible for a weekly drawing with a prize of up to $1 million. These drawings will occur 5 times over the next 5 weeks. The Ohio Department of Health (ODH) and the Ohio Lottery Commission will provide additional information.
Vaccine Allocation Survey for May 24, 2021
The Governor's office continues to facilitate vaccine allocation among independent pharmacy vaccinators. If you are contracted with the state as a vaccinator, please respond to the COVID-19 Vaccine Allocation Survey to share your allocation needs for the week of 5/24 to report your pharmacy's needs. If your responses have not changed, you do not need to respond to the survey. You will be asked to respond to the following questions:
Do you require a bi-weekly vaccine allocation due to a decrease in demand?
Are you interested in conducting employer vaccine clinics?

If you answered yes, how many vaccines will you need in the coming week (5/24)?

Do you plan to conduct walk-in vaccine clinics?
We will continue to send this update weekly to better facilitate allocation decisions. Please respond to the survey by Tuesday, May 18, 2021.
Centers for Disease Control and Prevention Interim Guidance for Fully Vaccinated People The CDC released interim guidance for fully vaccinated people regarding social distancing and facial coverings. Fully vaccinated people are no longer required to wear a mask or social distance except where required by federal, state, local, tribal, or territorial laws, rules and regulations, including local business and workplace guidance. Additionally, the CDC has recommended that schools continue the masking and social distancing requirements until the school year ends as most students are not vaccinated.
Useful State Vaccine Resources and Information
The following resources are helpful for vaccinators to contact ODH regarding vaccine shipments:
OPA is working diligently to facilitate communication between state decision-makers and member pharmacists. OPA has created multiple COVID-19 resources, including a COVID-19 Vaccine Information Webpage, COVID-19 Testing Hub, and COVID-19 Resources Webpage, on the OPA website www.ohiopharmacists.org under the Resources drop-down box. For further questions, please contact Myriam Shaw Ojeda, Fellow in Policy and Innovation, at [email protected].
---