Complete Story

Practitioner Profile - NPX Newsletter Fall 2017
Patrick Owcarz, R.Ph, PharmD
The Ohio State University 2010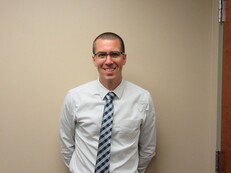 Director of Pharmacy at Berger Health System, Circleville, Ohio
Tell us a little bit about your practice site. Berger Health System is a 95 bed community hospital in Circleville, Ohio. The department of pharmacy plays a variety of key roles on the inpatient side. We have a decentralized pharmacy with pharmacist rounding, dosing all vancomycin and renal adjustments, IV to PO conversions, and formulary management. We also have an outpatient infusion center and Pharmacist-staffed Medication Therapy Management clinic (Coumadin clinic). I play a variety of roles in the pharmacy from administrative duties, planning and vision of the department, and I practice in the MTM clinic.
How long have you been an OPA member? What has been your best experience thus far? I have only been a member of OPA for about a year. I am very excited to be on the Advisory Board for NPX. I think this next year will be filled with many great experiences.
What has been your favorite moment of your career? We started our MTM clinic at Berger Health System last November. It has been such a positively rewarding experience from the planning and implementing to now working with patients who can receive the care that they need locally.
What is the best career advice you have offered, or been given? The best advice I have been given is to keep thinking big. There are so many opportunities for pharmacists in Ohio. I am lucky to work with people who allow us to practice at the top of our license.
What is the biggest challenge you've faced as a new practitioner, and how did you overcome it? Any of the new services that I have wanted to start in the hospital feels like my biggest challenge. Each time I make sure I get the key stakeholders on board by presenting the evidence that this is an area of need. Each brings different challenges, but I make sure I work collaboratively with my mentors and other pharmacists who already have started these services at their hospital.
What is one thing you can't live without? The support that I receive every day from my wife. She always allows me to take on new challenges.
---