Complete Story

OPA Trending Pharmacy Issues Surveys Results
The profession of pharmacy is constantly evolving. OPA keeps our members informed of the latest trends, laws and regulations impacting their patients and practice. In an effort to open communication regarding vital issues, we surveyed Ohio pharmacists. We are grateful to those pharmacists who took a minute to complete our three rapid response, Trending Pharmacy Issues Surveys. The results are below.
How does your opinion compare to other pharmacists across the state?
OPA's Trending Pharmacy Issues Survey #3 results indicated the Ohio pharmacists responding to the survey are strongly opposed to technicians being allowed to verbally transfer prescriptions. According to the survey, there is a wide-range of opinions on the percentage of time pharmacists should spent on clinical activities, however nearly 40 percent of respondents indicated that 50% of your time should be spent on clinical activities. See the charts listed below for more details. OPA members will receive additional survey data in their September issue of the Ohio Pharmacist journal.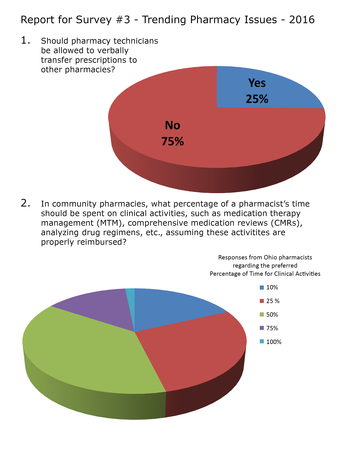 OPA's Trending Pharmacy Issues Survey #2 results indicated that the two biggest threats to the profession are: 1. PBMs/insurance control; and 2. the utilization of techs, nurses, and insurance admins in pharmacists' positions. These two combined represented over 65% of the total responses! Pressure to perform more clinical tasks and to fill too many prescriptions were the perceived to be the biggest threats to patient safety.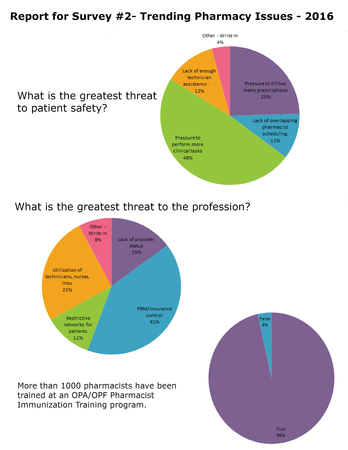 In survey #1, the question regarding how many OPA lobbyists advocate for your profession, was eye-opening to our staff! Only 24% of pharmacist respondents knew that OPA has three dedicated lobbyists advocating for you and a whopping 17% thought that OPA has no registered lobbyists! To help us better represent Ohio's pharmacists, please consider joining OPA now. Your VOICE is VITAL...and your participation is POWERFUL! Join Today!
Complete results from this survey are available to OPA members in the Members Only News and Info.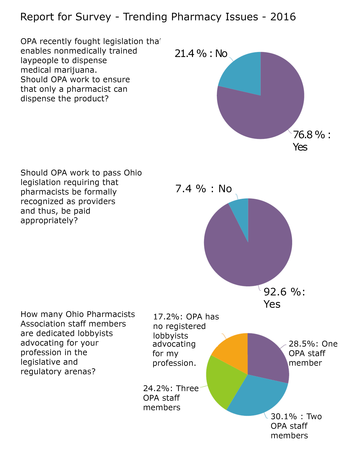 ---