Complete Story

Sweeping changes to pharmacist-physician consult agreement laws head to Governor Kasich's desk!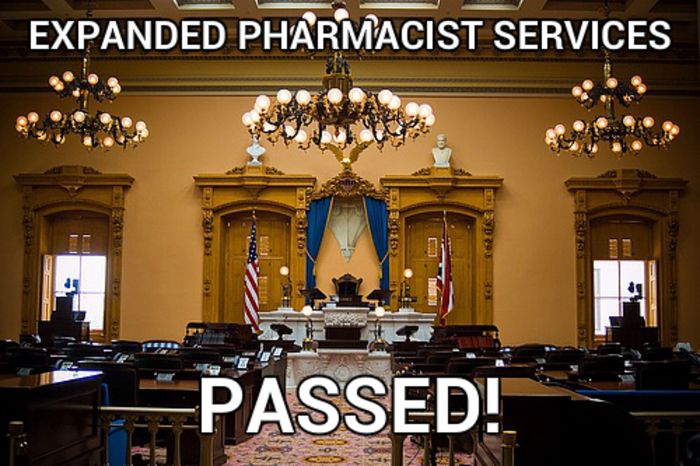 We are pleased to announce a major milestone in our pursuit to expand pharmacist services and scope of practice to better patient care in Ohio!
Last week, on the final day of session in 2015, the Ohio Senate voted unanimously to pass HB 188, and then in a lightning-fast turnaround, just a couple hours later the Ohio House of Representatives quickly took up the bill, where members voted unanimously to concur with the bill and sent it to the desk of Governor John Kasich! We are awaiting its official delivery to the Governor's desk, where he will then have 10 days to act on the bill.

HB 188, if signed into law, will streamline consult agreement paperwork so that multiple pharmacists can have an agreement with multiple physicians to manage drug therapy for multiple patients. Additionally, the bill will allow pharmacists acting under a physician consult agreement to order blood & urine tests, analyze the results of those tests, and then to remove, change, or add new medications to the patient's drug therapy regimen. This is a major step forward in OPA's efforts to better utilize pharmacist services to improve patient outcomes for Ohioans.

Aside from the consult agreement provisions of the bill, the bill also allows pharmacists to give patients who are out of refills (and if the doctor can't be reached) up to an extra 30-day supply of medications (or the smallest unit of measurement possible), if the patient's life could be adversely affected by not having the prescription.

This bill has been years in the making, and we thank all of the pharmacists, student pharmacists, the Ohio Society of Health System Pharmacists, the Ohio State Medical Association, and other industry supporters for assisting in its passage. We are thankful for the many OPA members who helped lead the charge to get this bill through the legislature despite the big odds against us. To say that we've come a long way would be an understatement.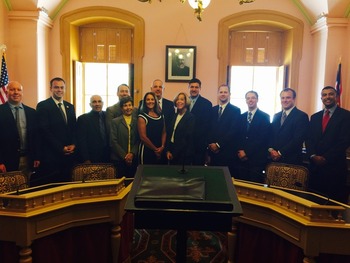 Lastly, thanks to Representative Nathan Manning, Representative Stephen Huffman, Senator Gayle Manning, and Senator Dave Burke for leading the charge as the sponsors of the legislation. Further, thanks to Chairwoman Anne Gonzales, Chairwoman Shannon Jones, Senate President Keith Faber, Speaker of the House Cliff Rosenberger, and the rest of the members of the legislature for seeing the bill through and ultimately supporting its passage.
"Simply put, this bill is a game-changer for all pharmacy practice settings - the opportunities for pharmacists to offer more hands-on services as a vital member of the health care team have never been greater. Doctors, health plans, plan sponsors, and patients can all benefit from the expanded powers granted to pharmacists in this bill," said OPA Executive Director Ernest Boyd.
If HB 188 is signed into law, it will take a few months before going into effect, and it will be subject to rules from the Ohio State Board of Pharmacy, which we have already proactively engaged on the issue.

OPA will have more information and guides for members in the near future, but for now, thanks to getting us this far, and we are hopeful the legislation is well received by Governor Kasich and then favorably signed into law!
For more information on the bill, please check out these news clips on the legislation:
Ohio bill would expand pharmacists' patient care services - APhA Pharmacy Today, 12/17/15
Ohio bill to safeguard insulin access passes - Insulin Nation, 12/11/15
Bill to expand emergency medication passes - The Chronicle-Telegram, 12/10/15
Ohio House passes updated consult agreement legislation - Rep. Stephen Huffman, 6/30/15
Burke announces Senate passage of legislation to improve emergency access to life-saving medicine - Sen. Dave Burke, 6/25/15
Ohio State professor lends testimony to HB 188 - OSU College of Pharmacy, 6/22/15
Saving lives and improving the health care system with House Bill 188 - Rep. Nathan Manning, 6/19/15
OSMA testifies in support of pharmacist consult bill - Ohio State Medical Association, 6/10/15
Death by expired prescription - Insulin Nation, 4/30/15
Death of Avon Lake man inspires legislative action quickening prescription access - The Chronicle-Telegram, 4/16/15
Avon Lake family seeks small-dose insulin availability - The Chronicle-Telegram, 2/18/15
Emergency insulin could have saved man's life - WKYC-3, 2/12/15
Outside of the support of volunteers and members, and the work of OPA's legislative staff in building coalitions and meeting with legislators, supporting political campaigns is a huge part of the advocacy process. We need to support good legislators who support pharmacy and the patients we serve, and we need to build on these recent success by working towards even bigger goals. Please consider financial support of our legislative efforts by contributing to the OPA Pharmacy PAC. 100% of Pharmacy PAC money contributed by pharmacists goes to help candidates who support pharmacy in Ohio. Or if you'd like to make a corporate contribution to support OPA's investment in our advocacy program, please consider being a part of the OPA Legislative Defense Fund (LDF).
You take care of patients. We take care of you.
---