Complete Story

Ohio Pharmacy Students Dispense Prescription for Hunger
Thousands of people in Ohio are facing hunger. With hunger, comes malnourishment, which can lead to serious health problems. As future health care providers, student pharmacists Larecia Knoerzer and Lisa Berni decided that this past weekend's Ohio Pharmacists Association (OPA) 134th Annual Conference & Trade Show in Columbus, was a good venue to begin efforts to feed a great need in Ohio.
For the first time in the OPA Annual Conference's history, under direction of Knoerzer and Berni, the association conducted a student food drive to benefit Mid-Ohio Foodbank. To rally the nearly 500 pharmacy students in attendance, they created a competition among the seven pharmacy colleges in Ohio to see which school could bring in the most food. They collected more than 670 pounds of food, with Ohio Northern University College of Pharmacy as the victor in a tight race, resulting in big donation from OPA to the Mid-Ohio Foodbank Operation Feed Campaign.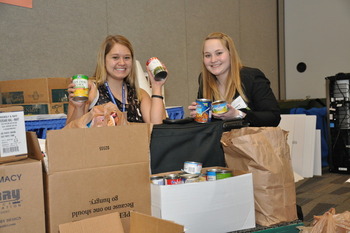 As a first-time event, OPA was amazed at the level of support that poured in from students.
"We expected a few dozen cans that we'd be able to throw in someone's car after the conference," explained Ernest Boyd, OPA Executive Director. "But as the cans began coming in, it became apparent pretty quickly that we had a serious haul on our hands!"
Knoerzer, a fourth year pharmacy student from the Ohio State University College of Pharmacy, and Berni, a sixth year pharmacy student from the Ohio Northern University College of Pharmacy, both plan to become fully licensed pharmacists later this year. They both hope that this service initiative is just one step of many as they provide assistance and care for their communities.
OPA plans to continue the food drive challenge at its next Annual Conference held in April 2013 at the Greater Columbus Convention Center.
"Oftentimes, with conferences as large as ours, it's easy to get bogged down in the details and rigors of putting on a great, educational meeting for attendees. Larecia and Lisa came in and implemented something we've wanted to do for a long time. Their initiative and dedication to the cause of wellness in our state is truly admirable. They've started a great program that we're proud to make a tradition," said Boyd.
OPA, established in 1879, represents more than 4,000 pharmacists, pharmacy educators, and pharmacy students throughout the state. It is OPA's mission to unite the profession of pharmacy and encourage interprofessional relations, while promoting public health through education, discussion, and legislation.
Mid-Ohio Foodbank is dedicated to feeding hungry people by collecting and distributing food and grocery products, educating the community about hunger, advocating for hunger-relief programs, and collaborating with others who address basic human needs.


---