Complete Story

Dana Wilkerson Recognized as UNDER 40 Award Recipient
2022 UNDER 40 Award Recipient
Dana Wilkerson, R.Ph., PharmD, MS, BCACP


The Ohio Pharmacists Association (OPA) announced that Dana Wilkerson, PharmD, MS, BCACP of Orient, Ohio, is a 2022 recipient of an UNDER 40 Award in recognition of her leadership, excellence, and vision in the practice of pharmacy. This award was presented at the OPA 144th Annual Conference held April 1-3.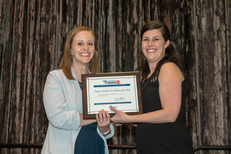 Dana is the Specialty Pharmacy Manager at Nationwide Children's Hospital where she has an impact on patient care and the role of the pharmacist in pediatric specialty pharmacy. She is a passionate pharmacy leader dedicated to expanding community-based pharmacy practice and advancing the profession through leadership, advocacy, and mentorship.
She is actively involved in state and national pharmacy organizations. For OPA, she currently serves as Vice Chair of the Member Services and Development Committee, and she was previously Chair of the New Practitioner eXperience (NPX) where she advocated and worked to increase engagement for new practitioners in Ohio. In addition, she serves on the Business Development Section Advisory Group within the American Society of Health-System (ASHP) Section of Specialty Pharmacy Practitioners. She has also served as an Ohio Delegate in the American Pharmacists Association (APhA) House of Delegates and a member of the APhA New Practitioner Network Communications committee.
Dana earned her Doctor of Pharmacy degree from Northeast Ohio Medical University College of Pharmacy (COP), and her Master of Science in Health-System Pharmacy Administration from The Ohio State University (OSU) COP. She also completed a two-year Community Pharmacy Administration and Leadership residency with the OSU COP and The Kroger Co., Columbus Division.
"We are pleased to recognize Dana Wilkerson who has exemplified leadership, excellence, and vision in her practice. She has been a valued member of the Association, and we look forward to her future contributions to the profession of pharmacy," said Ernest Boyd, OPA Executive Director.
OPA, established in 1879, represents more than 4,000 pharmacists, pharmacy educators, and pharmacy students throughout the state. It is OPA's mission to unite the profession of pharmacy and encourage interprofessional relations, while promoting public health through education, discussion, and legislation.
We thank Kroger Health for exclusively sponsoring the 2022 OPA UNDER 40 Recognition Program.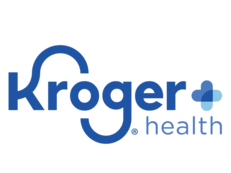 ---