Complete Story

OPA Annual Conference & Trade Show
April 12-14, 2019
OPA Annual Conference & Trade Show Recap - April 12-14, 2019:
More than 1,000 pharmacist and student pharmacist attendees came to the three-day OPA Annual Conference and Trade Show. Attorney General David Yost gave the Keynote Address about drug pricing accountability in Ohio during the Awards Lunch on Friday. Excellence was recognized with 24 individuals receiving awards. The exhibit hall had 79 vendors for Friday and Saturday Trade Show hours. In the exhibit hall, the Poster Session had its largest number of participants ever. Friday attendees enjoyed the unique OPA Conference event, Dinner in the City, at four downtown Columbus restaurants. The speaker of the PAC Breakfast was Rep. Romanchuk. More than 30 hours of CPE was offered. The Conference also offered a breakfast theatre by OneOme, Career Experts Panel, prizes in the Trade Show, Residency Expo, House of Delegates, New Practitioner Experience (NPX) Social, Student Olympics, and President's Banquet. Descriptions of noteworthy Conference activities appear below.
Conference Competition Winners:
| | |
| --- | --- |
| OTC and Self-Care Challenge | University of Toledo |
| Business Plan Competition | University of Cincinnati |
| Student Olympics | University of Toledo |

Mark your calendar for the 2020 OPA Annual Conference and Trade Show on
April 3 - 5, in Columbus Ohio.
Exhibit registration opens in July. Attendee registration begins in January.
---
To exhibit for 2019, click on the Trade Show & Exhibit Info link or the Register to Exhibit link in the box at the upper left corner of this page.
---
Special thanks to our 2019 OPA Gold, Silver and Bronze Conference Sponsors
---
Conference App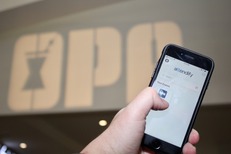 Conference App: The 2019 OPA Annual Conference App is available to download. In the App store/Google Play, search for and download the "Attendify app." Open the Attendify app and search for the "OPA Annual Conference 2019" event.
In an effort to go green, continuing education presentations will be available on the app for you to access via your mobile device. Be sure to download the app before you get to the Conference to read in-depth descriptions of CPE programming, start a to-do list, and get excited about the Annual Conference!
---
---
2019 FULL REGISTRATION
Registration Deadlines
by 3/7/19
by 4/8/19

Onsite
Discounted Member
$279
$309
$339

Non-Member Rate w/ Special Conference Rate
& 2019 OPA Membership*

$452
$482
$512
Pharmacy Resident Rate
$134
$164
$194
Pre-registration rates are valid through April 8. Onsite registration rates will become effective on April 9.
Full registration includes admission to all Friday, Saturday and Sunday CPE Programs, handout materials, Trade Show, meals and breaks. Registration for the PAC Breakfast is a separate fee.
*Special full conference rate for NEW members includes conference and April-December 31, 2019 OPA membership. This special offer is available to NEW OPA members only (those who were not members in 2017 or 2018).
---
ONE DAY REGISTRATION
DISCOUNTED MEMBER RATE
| Registration Deadlines | by 3/7/19 | by 4/8/19 | Onsite |
| --- | --- | --- | --- |
| Friday | $149 | $169 | $190 |
| Saturday | $149 | $169 | $190 |
| Sunday | $89 | $109 | $130 |
One day registration includes admission to CPE Programs, handout materials, Trade Show, meals and breaks.
NON-MEMBER RATE**
| Registration Deadlines | by 3/7/19 | by 4/8/19 | Onsite |
| --- | --- | --- | --- |
| Friday | $322 | $342 | $363 |
| Saturday | $322 | $342 | $363 |
| Sunday | $262 | $282 | $303 |
**Special one day Non-Member conference rate includes April-December 31, 2019 OPA membership. One day registration includes admission to CPE Programs, handout materials, Trade Show, meals and breaks.
MEMBER RESIDENT RATE
| Registration Deadlines | by 3/7/19 | by 4/8/19 | Onsite |
| --- | --- | --- | --- |
| Friday | $89 | $109 | $130 |
| Saturday | $89 | $109 | $130 |
| Sunday | $49 | $69 | $90 |
One day registration includes admission to CPE Programs, handout materials, Trade Show, meals and breaks.
---
STUDENT REGISTRATION
Click here to view student activities and registration rates for the Annual Conference.
---
2019 Special Events
Conversations Over Coffee
Friday, 8:15 am
Talk to pharmacy leaders, new practitioners, and students from around the state about the next step in your pharmacy career! Discuss interview preparation, pursuing a residency, board certification, and much more!
Awards Luncheon
Friday 11:25 a.m.
OPA will recognize excellence in the profession, in the community, and with the Association at the Annual Awards Luncheon. Media representatives will be recognized for their support of educating the public on safe medicine use and for awareness of pharmacy issues.
Trade Show and Prize Drawing
Friday, 4:00 – 6:00 p.m. & Saturday, 11:15 a.m. – 1:30 p.m.
Attendees may transform their practice by meeting exhibitors and learning about their products and services. Network with colleagues over lunch. Visit the exhibitors for a chance to win a BIG prize. There is no concurrent programming during Trade Show hours, so this is the perfect time to network with your colleagues and have a little fun!
Poster Session (Sponsored by the Consortium for the Colleges of Pharmacy)
Friday, 4:10 - 6:00 p.m.
Our annual Poster Session will feature the research of the faculty and students from Ohio's colleges of pharmacy, as well as practitioners from around the state. The Ohio Research Forum 2019 CPE session will be held at 1:00 p.m.
Friday Dinner in the City***
Friday, 7:00 pm
Attendees have the option to dine at one of four downtown Columbus restaurants. After a day of learning, network with your peers in a more casual setting. (Restaurant options subject to change prior to 4/12/2019.) Please indicate your preferences on the registration form.
***Note: restaurant choices will be assigned on a first come, first serve basis. Unfortunately, we will not be able to change your choice selections once your registration has been processed. Due to increased meal costs, there is a $20 surcharge for Martini Modern Italian.
PAC Breakfast
Saturday, 7:15 a.m.
Support pharmacy's influence in Ohio's General Assembly by attending the Political Action Committee Breakfast. You'll hear from an influential Ohio legislator and you can also sponsor a student. This event requires a separate fee on the registration form.
OneOme Breakfast Theatre
Saturday 7:30 am
Join us for a hot-plated breakfast and hear a presentation on the expanding role of pharmacists in facilitating medication optimization as a clinical service using the OneOme RightMed pharmacogenomics testing and technology solutions. No additional charge or registration is required; however, space at the event is limited to the first 40 attendees. (NO CPE credit)
Residency Expo
Saturday, 11:15 a.m
The Expo is your chance to meet residents and program directors from across the state. Come with questions and discover what their program can do for you. The Residency Expo is held in the OPA Exhibit Hall.

House of Delegates
Saturday, 4:40 p.m.
The House of Delegates serves as the policy-making body of the Association. Be a part of decisions made for the practice of pharmacy in Ohio through the resolutions and bylaws processes.
NPX (New Practitioner Experience) and UNDER 40 Networking Social
Saturday 5:00 pm Location: Barley's
If you are a pharmacist with < 7 years in practice, join other new practitioners and honorees of the UNDER 40 Award at this fun event! Network, meet and have fun at at location to be determined. Stay tuned for more details.
Pharmacy Ambassadors Reception,
UNDER 40 Award Recognition (Sponsored by Kroger Pharmacy),
President's Banquet (Sponsored by Nationwide Children's Hospital and Kroger Pharmacy) and President's Dessert Reception (Sponsored by Cleveland Clinic)
Saturday, 7:00 p.m.
Meet OPA's UNDER 40 Honorees and connect with colleagues and friends before the President's Banquet, which includes the installation of OPA President Brigid Groves and the 2019-2020 officers and trustees. A dessert reception will follow. All are welcome.
---
Faculty Disclosure
Disclosure of faculty and commercial support relationships will be made known at each activity.
Continuing Education Credit
This Conference is targeted to all pharmacists and student pharmacists. The Continuing Pharmacy Education (CPE) portion is coordinated by the Ohio Pharmacists Foundation. To receive CPE credit, pharmacists must attend the entire session, actively participate, complete the CPE form indicating sessions attended, and return the signed form to OPA within 30 days of the Conference. CPE credit will be uploaded
to the CPE Monitor at the end of each month. CPE Statements of Credit can be printed from the CPE monitor.
Learning objectives for each of the continuing pharmacy education programs can be found on the OPA website at www.ohiopharmacists.org. All CPE sessions are knowledge-based activities unless otherwise indicated.

The Ohio Pharmacists Foundation, Inc. is accredited by the Accreditation Council for Pharmacy Education as a provider of continuing pharmacy education. Disclosure: The OPF trustees and other individuals responsible for planning OPF continuing pharmacy education activities have no relevant financial relationships to disclose.

---
OPA 140th Annual Programming Highlights & Information - April 20-22, 2018 -
Check out a few of the photos from the 2018 Annual Conference!

Save
---