Complete Story

OPA member spotlight: Jim Kiffmeyer, RPh
Where do/did you study? Where did you complete any post-graduate training?
University of Cincinnati College of Pharmacy
What is your current job title?
Adjunct Instructor Community Pharmacy Practice
Who is your current employer?
University of Cincinnati Winkle College of Pharmacy and Health Source of Ohio
Please share your career pathway.
After graduating from the college of pharmacy I embarked on a career in high school and college teaching. I taught chemistry to high school students and pharmacology and chemistry to college students at UC and Cincinnati State. I practiced retail pharmacy in various locations.
What do you like most about the pharmacy profession?
I enjoy helping people understand their medications and educating them about their healthcare.
Please describe an impact you have had on your community or specific patients.
I am very involved in various committees including OPA, TriCounty Pharmacists Association, Veterans Apothecary Association of Cincinnati, and UC College of Pharmacy Alumni Association. Also, I am a volunteer educator at the Cincinnati Zoo and Cincinnati Museum Center. I feel these areas of involvement allow me the opportunity to teach and make a difference in the community.
Why are you an OPA member?
I feel it is important to be a member of your local, state and national organizations. I have been a member of OPA since graduating from pharmacy school now over 38 years.
How are you involved with OPA?
I am a member of the Public and Professional Relations Committee of OPA for the past 3-4 years. I have also contributed to the OPA Foundation through the insurance program set up several years ago.
What would you like to share about your passions and life outside of pharmacy (i.e., family, hobbies, other interests)?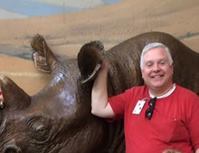 I enjoy everything about teaching. This explains my involvement at the Cincinnati Zoo and Cincinnati Museum Center. Both of these venues provide the opportunity to teach beyond the world of pharmacy and to use my science background. I am passionate about theater. As a result, I volunteer at Cincinnati Arts Association with Music Hall and Aronoff Center, as well as Playhouse in the Park and Ensemble Theatre.
Is there anything else you'd like to add?
I would like to thank OPA for all that they do for the profession of pharmacy. The progress that has been made on the legislative level is the result of the hard work and tireless efforts of OPA and staff. Thank you for making a difference in the profession of Pharmacy.
---