Complete Story

October 2018 OPA Extern Profile: Taylor Allen
Taylor Allen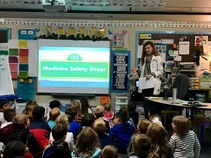 E-mail: allent@findlay.edu
Pharmacy School: The University of Findlay
Undergraduate degree/institution: N/A
Rotation Month at OPA: October 2018
How did you get interested in the profession of pharmacy?
As a high school student, I began my quest to determine what career I wanted to pursue. During that time, my grandmother and grandfather experienced rapid decline in their mental capacity due to Alzheimer's disease. As they grew more dependent, I volunteered to help with their medications. This provoked me to shadow a local, independent pharmacist – and, needless-to-say, I loved every second of it. At that point, I realized I had a passion for pharmacy and a growing interest in geriatric care.
Why did you choose OPA as a rotation site?
I chose OPA as a rotation site because I strongly agree with their ideals and wanted to develop my own leadership skills to better advocate for my profession. Growing up in a family of organizers, I realized the importance of advocacy, but lacked adequate experience of it within the realm of pharmacy. I believe OPA is the strongest working organization in the state of Ohio for pharmacists, for profession expansion, and, undoubtingly, for the patients we serve. After being exposed to Pharmacist Legislative Day, my desire to complete this rotation was solidified because I knew this rotation would help me develop the leadership qualities and advocacy skills I need when I become a pharmacist.
What was the most significant or surprising experience at OPA?
The most significant experience that I have had during my month at OPA was presenting on medication safety to first-graders at a local elementary school. Seeing the students admire my presence and be actively engaged throughout the presentation, reminded me why I wanted to be a pharmacist. Voicing our knowledge to the public is the best way to make an impact and these students were a prime example of how our communities look to us for advice.
Why I think it's important to maintain my OPA membership after graduation.
OPA is more than a professional organization. It is a group of pharmacists trying to make a difference in healthcare through profession preservation and advancement. The only way to make that goal possible is through involvement and maintaining membership. OPA is a group of our peers – peers from different backgrounds, serving as a way for members to connect with other pharmacists whom they may not have connected with before. Through OPA, you can develop relationships professionally and personally. With that being said, the years following graduation require the most guidance from seasoned pharmacists and the relationships you can make through OPA will help make the transition to being a new practitioner easier.
What other pharmacy associations/organizations do you belong to?
American Society of Consulting Pharmacists (ASCP)
American Pharmacists Association (APhA) and Ohio Pharmacists Association (OPA)
American Society of Health-System Pharmacist (ASHP)
Rho Chi Pharmaceutical Honor Society
Kappa Epsilon Professional Pharmacy Fraternity
Hobbies:
I love playing with my dog (Rocky), hiking with my fiancé, cooking with my fiancé and dad, and spending time with my parents during our family movie night.
---