Complete Story

February 2017 OPA Extern Profile: Rebecca Lahrman
Rebecca Lahrman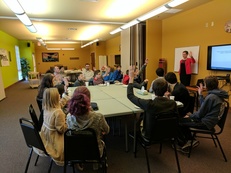 E-mail: Lahrmarm@mail.uc.edu
Pharmacy School: University of Cincinnati
Undergraduate degree/institution: University of Cincinnati
Rotation Month at OPA: February 2017
How did you get interested in the profession of pharmacy?
I have always been great in math and science and knew I wanted to work with people and to help people. My aunt is a pharmacist and after shadowing there I knew it was the perfect fit for me.
Why did you choose OPA as a rotation site?
Having a rotation at OPA is a once in a life time experience to get involved with an association and see how all the magic happens. I have enjoyed several leadership positions throughout pharmacy school and I knew I wanted to see what working for an association looked like.
What was the most significant or surprising experience at OPA?
The most surprising experience is how fast you get close to the legislators and their aids. I booked appointments for the student legislative day and quickly learned what districts they represented and their role in the house or senate.
What other pharmacy associations/organizations do you belong to?
I also belong to APhA, the American Society of Health-System pharmacists, American Society of Consultant Pharmacists, NCPA, Kappa Psi, and PLS
Hobbies:
I love to travel and explore new cities, as well as I participated in the marching band through undergrad and part of pharmacy school. I will be visiting Budapest and Vienna after graduation and I am so excited for the trip.
---