Complete Story

Have a PBM that is in violation of the new MAC laws?
To say that the calls are pouring in would be an understatement.
Ohio's maximum allowable cost (MAC) transparency law went into effect in late 2015, but it is clear that a couple PBMs are trying to spoil the party.
After the law was signed by Governor John Kasich, we sent a notice to all members informing them of the new PBM law changes and the process for ensuring PBM adherence to the laws. The guide to the new law, as well as the guidance from the Ohio Department of Insurance (ODI) can be found here.
Are all PBMs in compliance with the new laws?
We don't think so. While we are pleased with some of the PBMs for complying with the law so far, we believe some PBMs have decided to not only fail to comply with the new laws, but instead, they have chosen to amplify the problem of below-cost reimbursements to pharmacies in Ohio. The losses for pharmacies are in the thousands versus what they were losing months ago. From our understanding, this is impacting most pharmacies in Ohio - big and small.
We have heard reports from members that some PBMs are refusing to update MAC price lists. We have heard reports that some PBMs have no phone number to call to make an appeal. We have heard reports that one PBM's server was down and couldn't accept appeals for nearly a week. We have heard reports that some PBMs are refusing to give information to pharmacies on where drugs can be found at the PBM's benchmark price. We have heard reports the some PBMs are using pharmacy jargon (FYI, regardless of how a PBM says it calculates your reimbursement for a multi-source generic drug, according to law, that reimbursement is MAC) in an effort to discourage pharmacies from appealing or registering complaints with ODI. We have heard reports that some PBMs are refusing to accept appeals altogether.
If a PBM is acting in any of these ways, we believe that they are in violation of the law.
What can pharmacies do?
As you'll recall from our initial release this month, ODI has created a page that contains expectations and some FAQs on the new law. That can be found here.

If the PBM fails to adhere to the appeals process, or if they fail to meet the provisions contained in the law, then we are pleased to report that after months of working with ODI, they have taken the initiative to create a special complaint form specifically for pharmacies that may need to report a PBM that is not in compliance with the laws. That PBM complaint form is now live, and it can be accessed here: https://gateway.insurance.ohio.gov/UI/ODI.CS.Public.UI/PBMComplaint/DisplayComplaintForm
If you have questions related to your complaint, call the Ohio Department of Insurance at 1-800-686-1526. While most members have been able to speak with someone at the ODI complaint line, there have been several that have reached a recording. The bad news is that ODI at times experiences high call volume, and thus can't take every call that comes in immediately. The good news is that many of your fellow pharmacists are partly responsible for keeping them busy. Do not stop contacting the Ohio Department of Insurance with your complaints. ODI can only act if you provide the information they need in order to act.
If you have had difficulty in submitting complaints to ODI, please email a description the issues to Antonio Ciaccia at aciaccia@ohiopharmacists.org, and we will work to resolve them with the Department.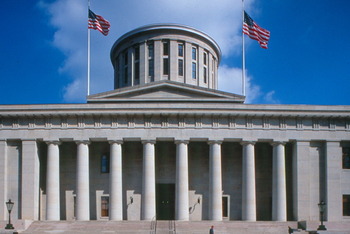 Also, please let you legislators know what is happening. Each of you has one state representative and one state senator. Ultimately, the legislature is who passed this law with the intent of leveling the playing field for pharmacies, and they are in a unique position to help pressure ODI to come down hard on those choosing to avoid the law and harm pharmacies.
Believe it or not, there are legislators that we've spoken with this week who haven't heard anything from their constituent pharmacies on this issue.
This needs to change!
To be blunt, many legislators are livid that some PBMs are refusing to comply with the law, but they don't know your story if you haven't told them!
Now is not the time to be passive or too busy to reach out to your elected officials. If your pharmacy is getting crushed, you need to let them know!
What is OPA doing?
Everything we can. OPA's government affairs team is working non-stop to discuss this issue with pharmacies. Days, night, and weekends; we are fielding your calls and talking through this issue to get a sense of what you're seeing. We are then gathering your feedback and reports and working with ODI and legislators to seek remedy. We have heard more MAC pricing woes in the last few months than we have in years.
We are working with ODI to ensure they are reining in bad actors in the PBM industry who may be avoiding compliance with the law.
OPA has met with legislators and leadership in both Ohio chambers of government to reinforce the contacts you're making with them to describe the problems you are having. We continue to meet with legislators on the issue, but it is imperative that you back us up with your calls.
OPA is also exploring further legislative action that could strike at the heart of many of the problems you are facing beyond just generic reimbursement. We can and will go there if we have to, but we need your help to pave the way - please ensure you are communicating with your elected officials.
What happens next?
To recap, here's the plan:
First, if you have a PBM that is in violation of the law, submit a complaint to ODI.
Next, if you have problems submitting a complaint, do not stop there. Let ODI know, and let OPA know.
Next, OPA is working with ODI to learn about their plan to crack down on non-compliant PBMs.
Next, in the meantime, discuss these problems with your legislator, and ask them to communicate to ODI that non-compliant PBMs need to be held accountable.
Throughout this process, keep us posted on all your interactions (whether it's the PBM, ODI, or your legislators). All information is relevant and helpful to us, and we are learning new things from you weekly about the ins and outs of this issue.
Then, wait to hear back from us on the progress with legislators and ODI on the reimbursement front.
Thank you for your support and your efforts. If we could wave the magic wand to make this easy, we would. The good news is that the law is on your side, and the levers are in place. Now we need to work to ensure the right levers are pulled.
As always, if you have questions or concerns, please contact Antonio Ciaccia at aciaccia@ohiopharmacists.org or (614) 389-3236.
---