New Practitioner Experience News Winter 2022



OPA New Practitioner Experience (NPX) Committee Launchpad

Winter 2022

Welcome to the NPX Launchpad
Welcome to the Winter 2022 edition of the NPX Launchpad, the quarterly newsletter intended to help you, new practitioners, excel personally and professionally!
This quarter's newsletter looks a little different! We want you to utilize the provider status opportunity that we have worked so hard to establish in Ohio by requesting an NPI number and applying for a Medicaid Provider ID! The first three links below include a step-by-step guide presented by the NPX advisory team members at the recent Lunch + Learn program.
Check out our featured articles:
We hope you enjoy the NPX Launchpad and we invite each of you to take the next step in your professional growth by getting involved with NPX today!
Sincerely, your NPX Advisory Team,
Chair: Megan (Johnson) Rees, PharmD
Vice-Chair: Nira Kadakia, PharmD
Member-at-Large: Morgan Behan, PharmD
Member-at-Large: Dustin Carneal, PharmD
Member-at-Large: Kay Hoopes, PharmD
Launchpad Coordinator: Megan (Stephan) Hull, PharmD
---
Requesting an NPI Number
Before you can establish yourself as a Medicaid provider, you first need to request an NPI number at https://nppes.cms.hhs.gov/#/.
You will click on 'Create or Manage An Account'. From here, you will want to click 'Apply for an NPI for myself'. This will then walk you through a series of questions. Below are a few things you will want to have ready when completing the application:
Formal business name, practice location, mailing address, business phone number, business fax number

Business tax identification code

Pharmacist taxonomy code indicating your specialization, if any
---
Requesting a Medicaid ID Number

Go to https://www.medicaid.ohio.gov/ and follow these steps created by OPA to submit your application.
Be sure to have a signed W-9 form ready before filling out the application.
For any questions on applying for an NPI or a Medicaid ID number, please reach out to any member of the NPX Advisory Team for additional assistance!
---
Jumpstarting Your Journey to Provider Status: A Pharmacist's Guide to Registering for a Medicaid ID and Why it's Important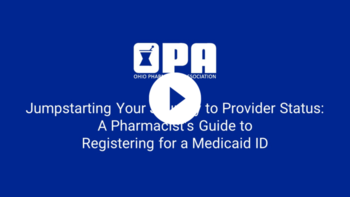 ---
News & Upcoming Events
Join NPX for our monthly Lunch + Learns on the 2nd Wednesday of each month. No registration necessary, just watch your inbox the 2nd Tuesday of the month for the Zoom link!
Interested in presenting a Lunch + Learn? NPX wants YOU! Sign up HERE.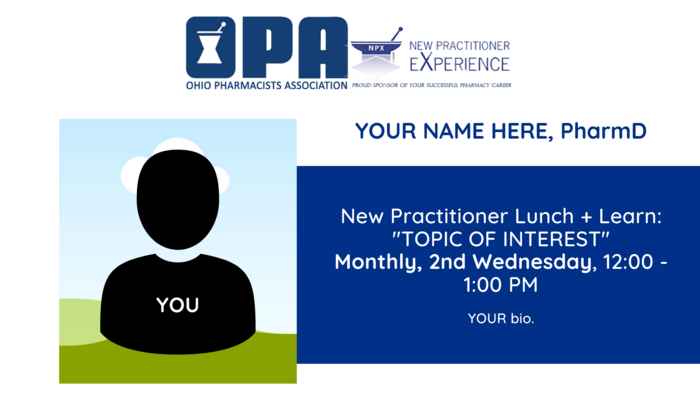 ---
NPX Committee Leadership Opportunities
If you are within 7 years of graduation, your OPA membership gives you access to the New Practitioner Experience (NPX), which is a committee for all new practitioners to help you achieve personal and professional success.
NPX is currently looking for interested individuals to take active leadership roles on the NPX Advisory Team. There are three positions open: Vice-Chair, Member-at-Large, and Launchpad Coordinator.
Vice-Chair is a two-year commitment that transitions to the role of Chair in year two. This individual will work closely with the Chair to guide the overall direction of the group.
Member-at-Large is a two-year term and this individual is responsible, along with the two other Members-at-Large, for representing the voice of the new practitioner members of the Ohio Pharmacists Association.
Coordinator for Launchpad, NPX's quarterly newsletter, is also a two-year commitment. Responsibilities include soliciting and coordinating article submissions, completing final edits before web publishing, and ensuring that important news is relayed to the new practitioner membership.
---
Interested in developing your leadership skills or pursuing a career in association management within a successful nonprofit organization? Then look no further! The Ohio Pharmacists Association Executive Fellowship is an opportunity to enhance those skills, and also receive training in advocacy for the profession, continuing education development and event coordination, to just name a few. Under the direction of OPA staff, the purpose of this fellowship is to help advance the profession while engaging with policy makers and state agencies.
February 3 - April 8: EduCon 2022 Virtual, co-hosted with Alliance for Pharmacy Compounding
This virtual event is focused on best practices in compounding and offers 11 CPE hours for pharmacists and pharmacy technicians -- and it's all aimed at ensuring your team practices with high competence and integrity! Not available to join streamed programming on February 3 and 4? No problem! Sessions will be available on-demand until April 8, 2022.
The Ohio Research and Innovative Practice Forums and Poster Session provide an opportunity for those performing research AND those transforming pharmacy practice through novel services and interventions to share their findings and experiences with pharmacists throughout Ohio during the 144th OPA Annual Conference, April 1-3, 2022. Depending on the COVID-19 situation next spring, this conference may be presented in both live and virtual formats.
Resolutions are the method by which OPA members can formally set the direction of the Association and profession. Members are welcome to submit proposed resolution ideas to the OPA Resolutions & Bylaws Committee for review and referral to the 2022 House of Delegates.
OPA's UNDER 40 designation recognizes outstanding pharmacists who have exemplified leadership, excellence, and vision in their practices. This honor grants young pharmacists the opportunity to join the ranks of top-notch professionals from a variety of practice settings who have earned an UNDER 40 Award. Any OPA member may nominate any eligible OPA member for the UNDER 40 awards.
Ohio Pharmacists Association Student Pharmacist Legislative Day is an advocacy event that affords student pharmacists the opportunity to meet with legislators to educate them about pharmacy-related issues and the value of the pharmacist. You will learn about the latest legislative issues in the Ohio Statehouse, how to effectively communicate those issues, hear from the legislators themselves, and have a chance to visit with your legislator.
April 1 - 3: OPA's 144th Annual Conference and Trade Show
Save the date- registration opens soon!
---
Get Involved with the Launchpad Newsletter
Help contribute to the next Launchpad newsletter! Articles may be submitted for Pharmacy Trivia, Rx Impact, Financial Future, and Ohio Days. Have an idea for another article relevant to new practitioners? You can submit that as well!
Sign up for upcoming articles HERE.
Articles should be submitted in a Word document to Megan (Stephan) Hull at m-stephan@onu.edu. Photographs for articles should be submitted as attachments for higher quality pictures. Thank you!