NCDA invites you to the first-ever
Virtual Global
Career Development Conference

July 14-16, 2020
3 days of Live Keynotes and Special Events
80+ hours of Recorded Sessions
15 CE Hours
500+ Career development practitioners, facilitators, counselor educators, counselors, specialists, and more participating
The NCDA Virtual Conference App will be available on July 9. Please note that you will receive an App Invitation in your email no later than July 9. This app invitation will allow you to quickly and easily download and login to the conference app on your mobile device or desktop. The conference app will only be accessible to registered attendees. Read the APP FAQs for more information.
Join your career development peers this July for a value-packed virtual event and gain access to a community-boosting collection of activities that foster knowledge and the feeling of connection.
$250 Member Registration (or $375 for non-members) provides 1-year access to 60+ live and recorded sessions, CEUs, online community connections, virtual gift bag, prize drawings, competency-based professional development and more!
This is a new event for NCDA – check this conference website for details and updates.
Here are a few FAQs to get you started:
How can I view the conference program?
View the Agenda or click here for the Virtual Conference Presentations. If registered, on July 9th you will be able to download the app to view up-to-date session descriptions and live event schedule.
How do I access the virtual conference?
Participants can access all conference offerings through the conference app (available starting July 9). A desktop version of the app will be much easier to use when participating. After July 9, registered participants can go to: https://event.crowdcompass.com/ncda2020
View more FAQs online.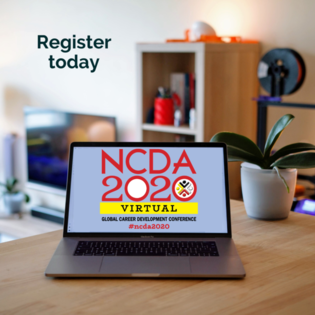 #ncda2020
Thank you for choosing NCDA and we hope to "see" you soon!

Dr. Kathy Evans
NCDA President 2019-2020
Quick Links
---
Updates
---
Key Dates