EXHIBIT HALL
The NCDA Global Career Development Conference welcomes exhibitors and sponsors from public and private corporations, government agencies, educational institutions, and professional associations who offer career-related products and services such as books, media, computer-based systems, assessment instruments, and online services.
Exhibitor Registration is now open! Click here for the 2017 Exhibitor Prospectus.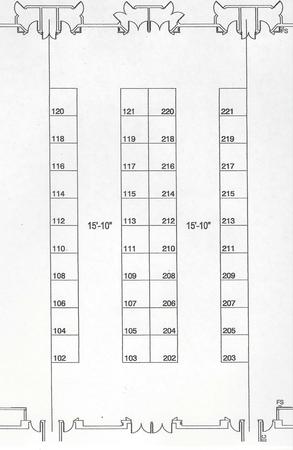 For more information, or to check on Booth availability, contact:
Alicia Cheek
305 N. Beech Circle
Broken Arrow, OK 74012
Phone: (918) 663-7060
Fax: (918) 663-7058
acheek@ncda.org
All conference events will be held at the Orlando World Center Marriott
World Center Drive
Orlando, FL 32821
Toll-Free Reservations:
(800) 621-0638
2017 Conference Exhibitors
Booth # 102-CAREER DEVELOPMENT NETWORK
Contact: Dick Knowdell
(408) 828-3858
rknowdell@mac.com
www.careernetwork.org

Booth # 103-202-PAR, INC./SELF-DIRECTED SEARCH
Contact: Teri Lyon
(800) 331-8378
cs@parinc.com
www.parinc.com
With a reputation for providing unparalleled Customer Service, PAR, Inc. is a leading publisher of innovative and high-quality assessment instruments—including software; apps; e-manuals; and assessment through our new Internet testing and reporting system, PARiConnect—developed to meet the needs of profession­als in psychology, counseling, education, neuropsychology, forensics, pharmaceutical product development, and career counseling. Independently owned and operated since 1978, PAR provides mental health professionals with reliable tools to evaluate, monitor, treat, and assist their clients and patients. To learn more about PAR and our superior quality assessments, please visit www.parinc.com.
Booth # 104-CRG CONSULTING RESOURCE GROUP INTERNATIONAL, INC.
Contact: Ken Keis
(604) 852-0566
www.crgleader.com

Booth # 105-107-KUDER
Booth #106- CAREERONESTOP
Contact: Kelly Tenner
(351) 259-7626
Kelly.tenner@state.mn.us
www.careeronestop.org

CareerOneStop.org, sponsored by the U.S. Department of Labor, Employment and Training Administration, offers free electronic tools and resources to help users explore careers, education, training and jobs. Check out mySkillsmyFuture, Certification Finder, Short-term Training Finder, Salary Finder, and more. Audiences served include job seekers, students, workforce development professionals, and businesses.
Booth # 108-110-ARMY RECRUITING COMMAND
Contact: Ina Tyler
(502) 626-1981
ina.j.tyler2.civ@mail.mil
www.goarmy.com

Booth #109-GOINGLOBAL
Contact: Sean Gallagher
(251) 342-9811
president@goinglobal.com
www.goinglobal.com

GoinGlobal provides career and employment resources for more than 120 worldwide locations, in addition to corporate profiles, H1B visa search engine and 16 million-plus job and internship postings. Our constantly-updated database features hiring trends, work permit regulations, resume/ CV guidelines, interview and cultural advice, and more. Free trial access available. Contact president@goinglobal.com or call 1.800.989.1190.
Booth # 111-FEEL GOOD, INC.
Contact: Rechelle Llorito
(407) 986-3351
rechelle@feelgoodinc.org
www.feelgoodinc.org

Feel Good, Inc. provides portable TENS (transcutaneous electrical nerve stimulation) units offering a wide variety of benefits including alleviating back, nerve, post-op, diabetic pain and migraines. Our units also improve circulation and sleep patterns to decrease the use of pain relievers that causes negative side effects.
Booth # 113-AMERICAN COUNSELING ASSOCIATION
Contact: Carolyn Baker
(703) 623-9800
cbaker@counseling.org
www.counseling.org
Visit ACA in booth #113 to obtain membership and professional development information and to purchase our latest texts, including Postmodern Career Counseling: A Handbook of Culture, Context, and Cases; Counseling Research: A Practitioner-Scholar Approach; Neurocounseling: Brain-Based Clinical Approaches; Affirmative Counseling With LGBTQI+ People; A Counselor's Guide to the Dissertation Process; and Relationships in Counseling.
Booth # 120-PURPLEBRIEFCASE.COM
Contact: Jenny Pate
(704) 960-9149
jpate@purplebriefcase.com
www.purplebriefcase.com

Purple Briefcase is a modern, end-to-end career services management platform. Beyond managing the career office our robust system also features several enhanced tools such as Mentorship, Internship Tracking, First Destination Surveying / Reporting, and Custom Smartphone Apps. Purple Briefcase has all of the tools you need to run a successful career services department.
Booth # 203-CAREERANDTALENTHUB.COM
Contact: Brian Bodkin
(908) 879-2038
bbodkin@careerandtalenthub.com
www.careerandtalenthub.com

Free Resume Enhancement Tools! Now your clients can obtain evaluations and recommendations from employers, supervisors, internship and volunteer coordinators and others. A digital E-Reference Check (ERC) report is created with the responses from references. Submit the ERC with a resume or employment application, even when applying online and get the recruiter's attention.
Booth # 204-LIGHTHOUSE ASSESSMENTS
Contact: Samuel Minor
(979) 807-4228
samuelminor@lighthouseassessments.com
www.lighthouseassessments.com

Lighthouse Assessments is driven by experience and expertise in the areas of employee selection, turnover, and performance. This expertise is applied to help identify and fulfill your motivational needs. We work side-by-side with both the job seeker and the employer to develop a rigorously tested, comprehensive method for making sound hiring decisions based on a candidate's fit to the organization to realize optimal engagement and productivity.
We are dedicated to helping both job seekers and organizations to optimize your decisions. Based in scientific theory and proven in application, the Fit Decision tools used provide pragmatic solutions for better hiring decisions.
Booth # 205-EDITS
Contact: Lisa Lee
(619) 222-1666
customerservice@edits.net
www.edits.net

Booth # 206-AWATO
Contact: Matthew Guruge
(603) 769-0563
matt@awato.org
www.awato.org
Booth # 208-GOODHEART-WILCOX PUBLISHER
Contact: Melissa Erffmeyer
(800) 323-0440
merffmeyer@g-w.com
www.g-w.com

Experts in Career and Technical Education, Goodheart-Willcox delivers authoritative content for teaching and learning success. Learn more about new digital learning solutions, textbooks, and instructor resources at our booth or visit www.g-w.com. Together, We Build Careers!
Booth # 209-NATIONAL COURT REPORTERS ASSOCIATION
Contact: Jennifer Late
(703) 556-6272
jlate@ncra.org
www.ncra.org

Court reporting and captioning offers high-tech and rewarding career options. The profession will experience a notable demand in the next five years due to ADA laws, FCC regulations, and retiring court reporters. Learn how your students can launch a successful career without the time and expense of a four-year degree!
Booth # 210-VOCATIONAL RESEARCH INSTITUTE
Contact: Cal Schaerer
(800) 874-5387
info@vri.org
www.vri.org

CareerScope® can help you meet WIOA legislation standards! CareerScope is a valid, reliable, and objective interest and aptitude assessment available Online or on CD. CareerScope recommendations provide the basis for selecting the most appropriate education/training program and developing transition, training, and employment retention plans. Ask us about a free trial!
Booth # 211-CENTER ON EDUCATION & WORK/CAREER LOCKER
Contact: Amy Rivera
(608) 265-2860
amy.rivera@wisc.edu
www.careerlocker.com
The Center on Education and Work, home to CareerLocker, has over a 30 year history of providing career development products in the state. Our mission statement is to foster lifelong career development, a meaningful work life, and a sound economic future for all job-seekers. Explore our CareerLocker website at www.careerlocker.com!
Booth # 221-THE CENTER FOR WORK ETHIC DEVELOPMENT
Contact: Josh Davies
(303) 433-3243
awalker@workethic.org
www.workethic.org
Save