New Practitioner Experience News Summer 2022



OPA New Practitioner Experience (NPX) Committee Launchpad

Summer 2022

Welcome to the NPX Launchpad
Welcome to the Summer 2022 edition of the NPX Launchpad, the quarterly newsletter intended to help you, a new practitioner, excel personally and professionally!
Check out our featured articles:
We hope you enjoy the NPX Launchpad and we invite each of you to take the next step in your professional growth by getting involved with NPX today!
Sincerely, your NPX Advisory Team,
Chair: Nira Kadakia, R.Ph., PharmD, BCACP
Vice-Chair: Megan (Stephan) Hull, R.Ph., PharmD, BCACP
Member-at-Large: Morgan Behan, R.Ph., PharmD, BCACP
Member-at-Large: Kay Hoopes, R.Ph., PharmD
Member-at-Large: Korie Maryo, R.Ph., PharmD
Launchpad Coordinator: Rebecca Lahrman, R.Ph., PharmD, MS, BCACP
---
New Practitioner Profile
Korie Maryo, R.Ph., PharmD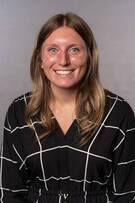 Hello, I am Korie Maryo, R.Ph., PharmD and I will be proudly serving in one of the Member-at-Large roles for the New Practitioner Experience (NPX) Committee Advisory Team for the next two years. I graduated pharmacy school from Northeast Ohio Medical University (NEOMED) in 2021. While in school, I was heavily involved with OPA and even served as a student trustee during my P3 year. Now, as a practicing pharmacist, I am very excited to continue advocating for the profession in this new role and look forward to the many networking opportunities OPA provides for us. I am one of the Outpatient Pharmacists at University Hospitals Portage Medical Center in Ravenna. Recently, I have been asked to help run a new service for acutely ill patients who will be provided in-home care while still considered to have inpatient status at the hospital. I am looking forward to this new and upcoming trend in the healthcare system as a creative way to take care of our patients in the comfort of their own home. And as an NPX committee member, I am dedicated to spreading the word about OPA, as well as continuing to engage other pharmacists and students.
Fun Fact: I have the most loving and cutest fur baby, Harper Lou, who is a one and a half year old yellow lab.
---
Updated Pneumococcal Vaccine Guidelines
By Nicole Glatz, PharmD Candidate, OSU 2023
Vaccine recommendations and products change frequently. It is important to frequently reference CDC's website for the latest. Until recently, PCV13 and PPSV23 were the gold standard for pneumococcal vaccines. In October of 2021, CDC's Advisory Committee on Immunization Practices began to recommend the use of PCV15 or PCV20 for PCV naïve adults over the age of 65 or those from 19-64 years old with underlying conditions. PCV13 contains the pneumococcal polysaccharide serotypes of 1, 3, 4, 5, 6A, 6B, 7F, 9V, 14, 18C, 19A, 19F, and 23F. This differs from PCV 15 and PCV20 which contain 2 or 7 additional serotypes. Phase 3 trials of PCV15 and PCV20 compared to PCV13 showed noninferiority of the new vaccines for the 13 shared serotypes in adults ≥50 and ≥60, respectively. The table below further compares PCV15 and PCV20.
| | | | |
| --- | --- | --- | --- |
| Vaccines | Immunogenicity in addition to PCV13 serotypes | Side Effects | SAEs within 6 months of vaccination |
| PCV15 | 22F and 33F | Injection site pain, fatigue, and myalgia | 2.5% in PCV15 vs 2.4% in PCV13 |
| PCV20 | 8, 10A, 11A, 12F, 15B, 22F, and 33F | Injection site pain, muscle pain, fatigue, headache, and joint pain | 1.5% in PCV20 vs 1.8% in controls |
---
OPA's Practice Advancement and Innovation Committee
By Megan Castelli, PharmD Candidate, Northeast Ohio Medical University 2024;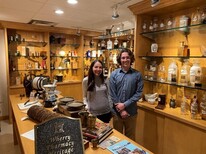 Dominic Tornichio, PharmD Candidate, Northeast Ohio Medical University 2025

The Practice Advancement and Innovation Committee is charged with advancing the pharmacy profession through patient-centered, pharmacist-driven innovation focused on medication management services and improved health outcomes. As current pharmacy students, this was our first exposure to a formal meeting within this professional organization. Topics ranged from provider status implementation to the impact of pharmacy practice from the COVID-19 pandemic. Within each agenda item, formal presentations and discussions were given and the goals, limitations, and concerns of all members were shared. These discussions emphasized the potential networking opportunity within these conversations.

---
A Taste of Our Kitchen
Black Bean and Corn Salsa
By Rebecca Lahrman, PharmD, MS, BCACP

At every family get together, I try to bring a dish, but I'm usually the one traveling so I am always looking for something that travels easy and meets most people's dietary needs. I often bring this salsa, and while I've tried many different versions of "cowboy caviar," this is my favorite.
Two cans of black beans, drained and rinsed


Two cans of corn, drained

One can of tomatoes and green chilies, any heat preference you like

One red onion chopped

One or two limes juiced, can zest for an extra punch

Cilantro, chopped

Ranch dressing, just enough to bring it together

Salt and Pepper to taste

Scoop chips are great to serve with this
Mix all the ingredients together and salt and pepper to taste. Sometimes I add more beans, or more tomatoes, the best part is its easy to alter to what you need or have on hand. It's vegetarian and can be gluten free, dairy free, and more veggies can always be added. The ranch dressing just helps bring it all together and take it up a notch. I appreciate that we almost always have the ingredients laying around and it comes together in less than ten minutes.
---
Ohio Days
Athens
By Sarah Salamone, PharmD Candidate, OSU 2023

Located along the Hocking River in southeastern Ohio, and home to the Ohio University Bobcats, is the beautiful city of Athens, Ohio. The city was originally founded in 1797 and University in 1805. Due to its proximity to the Appalachian Mountain region, the city offers many opportunities for outdoor activities. Athens has more than 260 acres of parkland in the county itself and is also near one of Ohio's largest state parks, Hocking Hills. Additionally, the Baileys Trails are open for mountain bikers, hikers, runners and more!
For those visitors who are history buffs, The Ridges is an historical landmark housing the rich history of the Kirkbride Plan Mental Hospital, formerly known as the Athens Lunatic Asylum. The hospital operated from 1874 until 1993 and many of the original structures and foundations are still present on Ohio University's campus. The old hospital also includes many different walking paths.

Downtown Athens also has many unique local restaurants, diners, and coffee shops, including Bagel Street Deli, Donkey's Coffee, and Casa Nueva that are sure to leave you wanting more. Athens also hosts many different festivals throughout the year that are a great chance to get out and socialize within the community. This summer they hosted Ohio Brew Week in July and on September 16-18 they will have the Pawpaw festival, to celebrate Ohio's native state fruit. During the festival, you can try a pawpaw in many different forms. Athens is a perfect weekend trip for those wanting to experience Ohio Appalachia and many local foods. If you visit on a Saturday morning, there is a farmers' market that has been operating for over 50 years. There are so many unique and incredible opportunities in this small town. It is worth the visit for those who have never been!
---
News & Upcoming Events
Join NPX for our monthly Lunch + Learn on the 2nd Wednesday of each month. No registration necessary, just watch your inbox the 2nd Tuesday of the month for the Zoom link!
Interested in presenting a Lunch + Learn? NPX wants YOU! Sign up HERE.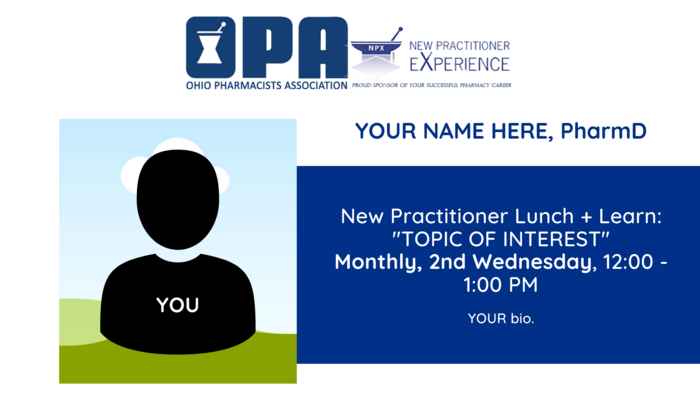 ---
OPA is offering a webinar format for pharmacists, pharmacy technicians and other employees to comply with the Occupational Safety and Health Administration (OSHA) Bloodborne Pathogens standard. Pharmacy personnel who have the potential to be exposed to a bloodborne pathogen must meet the requirements of this standard, including annual training with the opportunity to ask questions during the training. This includes pharmacists and others who administer immunizations, provide point-of-care testing involving blood, or who are involved with handling sharps containers. This live webinar will be offered monthly through November and provides the opportunity for interactive questions. Pharmacists and pharmacy technicians can earn one hour (0.1 CEU) of CPE credit for the course. See the OPA website Online CPE page for exact days and times.
The pharmacy profession faces several opportunities for reimbursable patient care, including provider status and COVID-19-related services. We will discuss contracting with managed care organizations for provider status and cover recent COVID-19 updates that affect access to care and pharmacist-led services.
OPA is pleased to announce its live training program for pharmacists who plan to administer the following long-acting or extended-release dangerous drugs permitted by Ohio Revised Code 4729.45:
Opioid antagonist used for treatment of drug addiction or alcohol dependence and administered in long-acting or extended-release form;
Antipsychotic drug administered in long-acting or extended-release form;
Hydroxyprogesterone caproate for pregnant women;
Medroxyprogesterone acetate for non-pregnant women;
Cobalamin.
Seating is limited. If training program is full, please complete the interest form found under the program description on the Education tab of the OPA website. Future trainings will be offered based on demand.
The Independent Pharmacy Expo is a must-attend event for pharmacy owners, prospective owners, pharmacists and others who have an interest in community pharmacy practice. You will learn from nationally-recognized speakers, exhibitors with products and services to meet your pharmacy's needs, and your peers already in the practice. Pharmacists and pharmacy technicians can earn up to 7 hours of Continuing Pharmacy Education (CPE) credit with practical, applicable information selected for independent pharmacy practice. Home-study CPE topics include: DIR Fees, Implementation of Collaborative Practice Agreements, DEA Audits, Expanding Your Pharmacy to Multiple Locations, Diagnostic Testing and Treatment Implementation, Care Planning, and Collaborative Practice-Retail Pharmacy Model. The Expo CPE, which also includes a virtual Expo Hall to showcase exhibitors who have products and services to meet your specific needs and help your business, will be available on-demand through November 18, 2022.
November 6: OPA Midyear Meeting
Save the date! Programming details and registration available soon.
---
Get Involved with the Launchpad Newsletter
Help contribute to the next Launchpad newsletter! Articles may be submitted for Pharmacy Trivia, Rx Impact, Financial Future, A Taste of Our Kitchen, and Ohio Days. Have an idea for another article relevant to new practitioners? You can submit that as well!
Sign up for upcoming articles HERE.
Articles should be submitted in a Word document to Rebecca Lahrman at lahrman.6@osu.edu. Photographs for articles should be submitted as attachments for higher quality reproduction. Thank you!