October 2010 OPA Extern Profile: Todd Sega
Todd Sega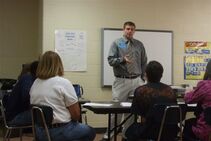 E-mail: toddsega@gmail.com
Pharmacy School: Ohio Northern University
Rotation Month at OPA: October 2010
How did you get interested in the profession of pharmacy?
While in high school, I was privileged to own and operate a small business that allowed me to interact and get acquainted with many individuals in my surrounding communities. Meeting and talking to new people simply became a hobby of mine that provided me with great reward. I spent several days each month shadowing and exploring different professions and careers during my summer months. After several experiences in business and the medical professions, my shadowing experience in a pharmacy left me with an obvious decision to enter the profession of pharmacy. While spending a couple of days in a community pharmacy, I believed that there was no other profession with the ability to meet and interact with so many people in a single day. Additionally, many of the patients coming into the pharmacy had a personal relationship with the pharmacist which also spoke to the trust that was evident in the profession. As I look back on my thought process from six years ago, I still believe that pharmacists are uniquely positioned to meet the most people and positively influence their health-related quality of life. It is this aspect that I am looking forward to the most, and I am truly excited and honored to enter the profession.
Why did you choose OPA as a rotation site?
I chose OPA for one of my elective rotations largely due to the passion that I have for the profession and the opportunity that associations have to help shape the future of the profession. I have attended pharmacy legislative/lobby days in the past and enjoyed every aspect of educating people about pharmacists and how our expertise is capable of reducing healthcare costs by engaging patients. I understand the "tools" that pharmacists are equipped with, and have always enjoyed working to promote legislation that allows pharmacists to get reimbursed for the tools and services they are capable of providing such as Medication Therapy Management, diabetes education, or disease state management. I have viewed OPA as the vehicle to drive pro-pharmacy change through advocacy and legislation and sought a rotation at OPA to experience the ride.
What other pharmacy associations/organizations do you belong to?
ASP, NCPA, Christian Pharmacists Fellowship International (CPFI), honorary-Phi Lambda Sigma, Pennsylvania Pharmacists Association (PPA)
Hobbies:
Racquetball, tennis, ping-pong, running, mountain biking, good conversations, and meeting new people