MTM
Payor Toolkit Now Available

The Ohio Pharmacists Association's Practice Advancement and Innovation Committee developed a toolkit for OPA members to guide conversations with insurance companies, providers, administrative professionals and other non-pharmacy entities regarding establishment and payment for pharmacist services. As the most accessible healthcare professionals, pharmacists are well-positioned to take on expanded patient care roles. Whether the focus is to improve patient outcomes or reduce overall health costs, pharmacists are an important part of the healthcare team and this toolkit highlights the role of pharmacist services.
The toolkit provides talking points on three areas where pharmacists can add value: adherence and education, chronic disease state management and cost containment, as well as a glossary terms. This toolkit also contains information on how to evaluate internal and external factors that may affect the success or payment of pharmacists' patient care services.
---
Collaborative Practice Agreement Templates Available
OPA's Practice Advancement and Innovation Committee (formerly the Medication Therapy Management Committee) has drafted templates for collaborative practice agreements (CPAs) for OPA members to use in their practices. These templates include a CPA General Template, as well as appendices for specific disease states that may be included in a CPA. There is also an appendix for additional disease states that pharmacists may want to include in a CPA. These documents are available in Word format so they can be tailored to specific practice settings.
Pharmacists who enter into collaborative practice agreements need to keep up-to-date on clinical practice guidelines, as well as board of pharmacy rules that apply to consult/collaborative practice agreements.
The agreement templates may be accessed and downloaded from the following links:
---
Ohio's MTM Story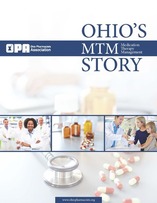 OPA's Medication Therapy Management (MTM) Committee asked pharmacists who provide MTM services to submit examples of the impact of these services in their professional practice. We were pleased to receive responses from more than 100 different sites across the state. Each MTM "story" tells of an individual encounter that improved the health of a patient. These stories have been published in a booklet that showcases, by Ohio Senate District, the effect of several of these interactions with pharmacists.
The Ohio's MTM Story booklet will be shared with legislators, third party administrators, media and others to educate them about the positive impact pharmacists have on patient lives and the healthcare system.
The electronic version of the booklet is now available at the following link: Ohio's MTM Story
---
Medication Therapy Management (MTM) services can effectively promote appropriate medication therapy, improve patient therapeutic outcomes, and control overall health care costs. Pharmacists and other health professionals collaborate to provide Disease State Management (DSM)/MTM, which targets the prevention of complications and treatment of chronic conditions.
OPA's Medication Therapy Management Committee maintains a Medication Therapy Management (MTM) Registry for patients and health providers. The MTM Registry identifies the location and services provided by MTM pharmacists in Ohio. It is self-reported and kept current by the staff of the Ohio Pharmacists Association (OPA). OPA recognizes the benefits of MTM services to improve the patient's quality of life and encourages use of this resource. However, OPA does not endorse these providers and their services nor has OPA reviewed the listing of services submitted. To download a printable form of the Registry, click on the following links.
---
Training Program Info:
Hosted by the Ohio Pharmacists Association
Next Program: August 21, 2019
Program details may be found at the following link:
August 21, 2019 APhAs Delivering MTM Services Brochure
Registration Fee:
OPA Member: $395
Non-member: $495 Join Now & Save: OPA New Member Application
PGY1 or PGY2 Resident: $325

Please note: If you are unable to attend the MTM certificate training program being held on August 21, 2019 and are interested in receiving a notification about future programming, please submit the following form:
MTM Services Training Program Interest Form
You must attend the live session to receive CPE credit for this program.
---
Successfully Engaging Patients OHIO HANDOUT 20120813.pdf
Updates
Surveys/News
MTM presentation by Tim Ulbrich, R.Ph, PharmD, April 2013 via OPA LinkedIn page "Your local pharmacist is not who you think they are."
MTM article in Cleveland Plain Dealer - 12.06.2010 Reviewing medications with pharmacist can improve health, save money
OPA Disease State Management/Medication Therapy Management Task Force members recently met with Bureau of Workers' Compensation Director of Pharmacy John Hanna, R.Ph., to submit a pain management program that may be administered in community pharmacy.
Curt Black, R.Ph., PhD. was honored at the 2010 APhA Annual Meeting with the Academy of Pharmacy Practice and Management Merit Award in recognition of his dedication to improved medication use and to promote the value of pharmacist-provided medication therapy management (MTM) services through the state of Ohio.
Pharmacy Today's featured Curt Black's promotion of MTM throughout Ohio in its April 2010 issue and online – Black fosters growth of MTM throughout Ohio

Legislation/Rulings
S. 3543: Medication Therapy
Management (MTM) Expanded Benefits Act of 2010
This bill, introduced by Sens. Hagen (D-NC) and Franken (D-MN), would expand Medicare beneficiary access to MTM services. The legislation would do the following.
Expand the list of conditions used to determine eligibility for MTM services. •Allow pharmacists or other qualified providers to help determine who may benefit from MTM services.
Require any MTM program to offer both comprehensive and targeted medication reviews at the time of initial enrollment and at a transition of care.
Require PDP sponsors to offer any willing pharmacy in its network, and any other health care provider, the opportunity to provide MTM services.
Require PDP sponsors to reimburse pharmacies or other qualified health care providers furnishing MTM services based on the resources used and the time required to provide such services.
Provide pharmacies and other entities that furnish MTM services with additional incentive payments based on their performance in meeting quality measures established under this Act.
http://www.govtrack.us/congress/billtext.xpd?bill=s111-3543


Events
←
September 2019
→
S
M
T
W
T
F
S
1
2
3
4

OPA Office- 2674 Federated Blvd, Columbus, OH 43235

September 4, 2019




10:00AM

5
6
7
8

Embassy Suites by Hilton in Dublin, Ohio

September 8, 2019

9
10
11
12
13
14
15
16
17

OPA Office- 2674 Federated Blvd, Columbus, OH 43235

September 17, 2019




10:00AM

18

OPA Office- 2674 Federated Blvd, Columbus, OH 43235

September 18, 2019




10:00AM

19

September 19, 2019




11:00AM

OPA Office- 2674 Federated Blvd, Columbus, OH 43235

September 19, 2019




10:00AM

20
21
22

Education and Expo

Makoy Center, 5642 Center St., Hilliard, Ohio 43026

September 22, 2019

23
24
25

Makoy Center, 5462 Center Street, Hilliard, OH 43026

September 25, 2019

26
27
28
29
30
September 22, 2019
Makoy Center, 5642 Center St., Hilliard, Ohio 43026
October 15, 2019
11:00AM
October 23, 2019
8:30AM-5:00PM
November 3, 2019
8:00AM-5:15PM
Makoy Center, 5462 Center Street, Hilliard, Ohio 43026
November 14, 2019
OPA Office - 2674 Federated Blvd, Columbus, OH 43235