Complete Story

March 2014 OPA Extern Profile: Josh Gaborcik
Josh Gaborcik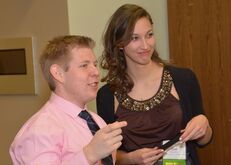 E-mail: gaborcikjw@gmail.com
Pharmacy School: The Ohio State University
Undergraduate degree/institution: Bachelors of Science in Pharmaceutical Sciences (BSPS), The Ohio State University
Rotation Month at OPA: March 2014
How did you get interested in the profession of pharmacy?
I had the opportunity to enter into the healthcare world at the young age of three and a half. Growing up around healthcare professionals spurred my interest in medicine. I ultimately decided to pursue a career in pharmacy because I was intrigued how one medication could make me feel better and helped improve my quality of life. Additionally, I saw an opportunity to change the profession in a positive manner – I want to be a patient care advocate while at the same time being the medication expert.
Why did you choose OPA as a rotation site?
The time is now for pharmacy! Our opportunity to transform the profession of pharmacy amidst the ever-changing healthcare system has arrived. Involvement in professional organizations is your reservation at the discussion table and every seat needs to be filled. Throughout my time at Ohio State, I saw the value in pharmacy organizations. It is one thing to be a dues paying member, but it is a completely different world being an involved dues paying member. My membership and involvement has allowed me to advocate for my profession, network with colleagues, mentors, and advisors, supplement my pharmacy education, and have some fun. I chose a rotation at OPA because it would allow me to be even more involved with my profession, learn about association management, and further strengthen the value of my student (soon to be pharmacist) membership.
What was the most significant or surprising experience at OPA?
The significant experience at OPA was hearing governing boards, state senators, and state representatives talk about the pharmacy profession. When listening to testimony for HB 394, the expansion of immunization privileges, state representatives questioned whether 'pharmacists knew how to properly store vaccinations in a refrigerator', and the best remark questioned the intent of patient care by stating that HB 394 is an 'attempt to increase the sale of bread, milk and beer.' To me, these remarks are worse than 'pharmacists only count by fives.' Additionally, I had the opportunity to be involved in a special interest group meeting regarding diabetic shoe footing and how pharmacists are qualified. To sit through that meeting and hear others devalue and question the clinical nature of pharmacy was an eye-opening experience. These experiences displayed that pharmacists need to advocate for their profession. As a group, pharmacy needs to rise as one and take our place at the discussion table – healthcare is changing and moving forward, pharmacy needs to be represented!
What other pharmacy associations/organizations do you belong to?
Phi Lambda Sigma, Alpha Sigma Chapter
APhA-ASP, Ohio State Chapter
SSHP, Ohio State Chapter
Hobbies: Volunteering, coaching basketball, spending time with family and friends, Ohio State sports
---