Complete Story

Make a Tax-Deductible Contribution to OPF to Pay off Our Building!
Now is the perfect time to reduce your tax burden by contributing to the Ohio Pharmacists Foundation (OPF) Capital Campaign. The campaign is aimed at paying off our building, and providing future funds to assist in providing educational programs that will enhance the practice of pharmacy and patient outcomes, as well as research efforts. We have raised more than $600,000 from over 100 individual pharmacists, pharmacies, wholesalers, vendors, faculty members, student pharmacists, and friends of pharmacy.
Our new building has created many new opportunities to serve our members – the number of in-house programs has increased every year, allowing us to create specialized educational sessions that work to grow the profession and enhance the knowledge base of our pharmacists.
This year alone, we trained more than 100 pharmacists to administer immunizations, conducted our first-ever financial management seminar for pharmacy owners, hosted a Women in Pharmacy panel aimed at encouraging female leadership within the profession, launched our new RxCEOnDemand.com webinar portal for 24/7 on-demand CE programs, created programs on compounding pain management and pharmacy marketing, and launched a new MTM certificate training program in partnership with APhA – all of this within our building!
We need your help to keep up the momentum and help provide the financial security necessary for a bright future for the Center of Ohio Pharmacy. There are many opportunities for you to make your mark on our work and our building – a permanent landmark for Ohio pharmacists. One such opportunity is the purchase of an engraved brick on one of our outdoor paths that will permanently memorialize your support. Standard-sized bricks can be purchased for $1,000 and large bricks for $2,500. Each will be engraved with your name and placed on the path of your choosing.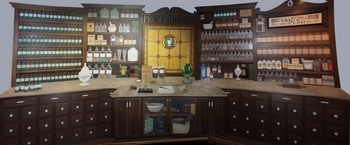 All donors of $2,500 or more will be recognized on our hand-painted pharmacy donor mural (pictured above) located inside, adjacent to the Wherry Pharmacy Heritage Museum. It is a stunning artistic tribute to the history of pharmacy, and the hallmark of our building.
All donations can be spread out over a payment schedule that meets your needs.
---