OPA 2013 Annual Conference shatters attendance record!
By Allison Rider, OPA April 2013 Student Extern
The OPA Annual Conference & Trade Show is a great opportunity for pharmacists and student pharmacists from across Ohio to come together and connect as members of the pharmacy profession. The exceptional continuing education, captivating speakers, and dynamic trade show are just a few of the much-anticipated events that continue to draw increasing numbers of attendees to the Annual Conference.
Throughout the years, the conference has steadily grown in the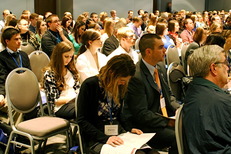 number and variety of programs offered, exhibitors present at the trade show, panel discussions, student activities, and overall attendance. This year was no exception; in fact, the 2013 OPA Annual Conference had a record attendance of over 1400 registrants including pharmacists, student pharmacists, speakers, and exhibitors! The overwhelming number of participants this year not only exceeded expectations, but also represented the importance of the Annual Conference to members of the pharmacy profession in Ohio.
The in-depth live CE lectures are one of the most popular aspects of the Annual Conference. This year featured a wide variety of topics, ranging from disease state reviews (including hypertension, COPD, and community-acquired pneumonia) to legislative updates to patient care opportunities (such as MTM and the innovative practice forum). One of the programs new to the 2013 conference was an entrepreneurial-focused panel discussion regarding how to open or sell a pharmacy, which featured wholesalers as well as a banker present to lend expertise to the aspiring independent pharmacist. Pharmacists and student pharmacists were highly satisfied with the more current and original topic discussions this year.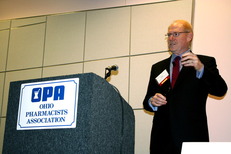 The speakers not only delivered excellent lectures, but also came from many different arenas to deliver new and important information to attendees. Bill G. Felkey, Professor Emeritus at Auburn University, delivered a lecture regarding how new technology and connectivity will be required in a patient-centered pharmacy. Heidi Ecker, the Director of Government Affairs and Grassroots Programs through the National Association of Chain Drug Stores, provided a legislative update with OPA Executive Director Ernie Boyd, along with a discussion on grassroots involvement in the policymaking process. Thomas Menighan, Executive Vice President & CEO of APhA, and Jenelle Sobotka, Professor and Endowed Chair at Ohio Northern University, spoke about the ongoing opportunities for pharmacy in the changing healthcare system. These are just a few of the outstanding speakers at the 2013 Annual Conference, although all of the speakers received impressive reviews from those in attendance.
The 2013 Annual Conference was also an exciting event for student pharmacists, who found an abundance of valuable opportunities open for their participation. These ranged from student panel participants at live CE lectures (such as The Journey of Addiction and Generation Rx Initiative) to the trade show to a multitude of student competitions.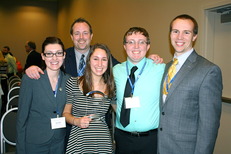 Findlay won the infamous OTC Challenge, Ohio Northern captured the Business Plan competition trophy, the Pharmacy Olympics were swept by Toledo, and the overall attendance champions were students of Cedarville College of Pharmacy. It was an fun-filled and energizing Annual Conference for Ohio student pharmacists, filled with a little good-hearted competition between schools that leaves some ambitions for redemption next year.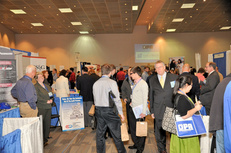 Exhibitors at the trade show were tremendous this year, and found a high volume of interested attendants at their booths. One exhibitor in particular stated, "You (OPA) treated the vendors as guests, which was appreciated. I particularly enjoyed attending the seminars during non-show hours. We accomplished our goal for increasing our recognition and did end up with several qualified leads." The Trade Show is an aspect of the Annual Conference that continues to grow and be a major success.
The House of Delegates also reconvened at this year's conference, and delegates were able to work together to amend bylaws to clarify that life members do not have to pay dues, the Immediate Past President remains an officer of the association, establish term limits for the Executive Committee Member-At-Large, and extend the term limits for District Trustees to three consecutive two-year terms. In addition, the House of Delegates defeated a bylaw amendment that would have charged the Immediate Past President with chairing the meetings of the Board of Trustees. All three resolutions were also adopted, which included OPA continuing to monitor the in-state CPE provider status, expressions of appreciation, as well as OPA supporting licensed pharmacists as Medicare providers.
Overall, the OPA 2013 Annual Conference was nothing short of an overwhelming success. Those in attendance expressed exceptionally positive feedback, as well as anticipation for the new and exciting opportunities next year's conference will provide. As always, the best way to stay involved and informed is to become a member of the Ohio Pharmacists Association. The Annual Conference is one of many benefits that come with being involved with OPA. Thank you to all who attended, and we hope to see registrants continue to increase in the future!
Join us next year in Columbus for the 136th OPA Annual Conference & Trade Show, April 4-6, 2014!