Complete Story

New Practitioner Experience News Fall 2021



OPA New Practitioner Experience (NPX) Committee Launchpad

Fall 2021

Welcome to the NPX Launchpad
Welcome to the Fall 2021 edition of the NPX Launchpad, the quarterly newsletter intended to help you, new practitioners, excel personally and professionally!
Check out our featured articles:
We hope you enjoy the NPX Launchpad and we invite each of you to take the next step in your professional growth by getting involved with NPX today!
Sincerely, your NPX Advisory Team,
Chair: Megan (Johnson) Rees, PharmD
Vice-Chair: Nira Kadakia, PharmD
Member-at-Large: Morgan Behan, PharmD
Member-at-Large: Dustin Carneal, PharmD
Member-at-Large: Kay Hoopes, PharmD
Launchpad Coordinator: Megan (Stephan) Hull, PharmD
---
Practitioner Profile
Dustin Carneal, PharmD
What is your current position and where do you work?
I am the Clinical Pharmacy Manager at Crystal Clinic Orthopaedic Center in Northeast Ohio. Crystal Clinic Orthopaedic Center is a physician owned specialty hospital system with board-certified and fellowship-trained orthopedic and plastic surgeons who perform more than 17,000 surgeries each year at two surgical locations. My roles include leading efforts in transitions of care, antimicrobial stewardship, anticoagulation, pain management, perioperative optimization, informatics, formulary management, and medication safety. This is done through quality improvement projects, multidisciplinary rounds, perioperative visits, discharge counseling, and involvement in system committees.
---
Rx Impact
Sickle Cell Disease and Implicit Bias
By Addison Sember, PharmD Candidate 2022, University of Findlay, OPA APPE Student

Sickle cell disease (SCD) is a life-threatening inherited blood disorder that affects predominantly Black patients, and has a long-standing history of associated implicit bias because of this. In SCD, red blood cells are crescent shaped which restricts their ability to travel and limits oxygen delivery. This causes severe pain and organ damage, which is considered a sickle cell "crisis" and leads these patients to present to the ED for crisis treatment. Implicit bias is seen in treating these patients at all points of care because a majority of SCD patients are Black and require opioids for adequate pain management which is often perceived by healthcare workers as drug-seeking behavior.
---
Launch into Pharmacy Trivia
Q: Which famous golfer previously attended pharmacy school at Ohio State University before becoming a pro golfer?
By Lucy Andrews, PharmD Candidate 2022, The Ohio State University, OPA APPE Student

A: Jack Nicklaus
Jack Nicklaus grew up working in his father's pharmacy in Columbus and learned to golf with his dad. Originally, he followed in his father's footsteps and began pharmacy school at Ohio State. After finishing three years of pharmacy school, he switched to business when his father convinced him to pursue a career where he could develop his golf game. As his Amateur career began to take off and traveling to tournaments took him away from his studies, he dropped out of school and the rest is history…He has 120 professional tournament victories worldwide and 18 professional major championship titles to his name.
---
Ohio Days
Canal Fulton
By Emma Canfield, PharmD
The historic town of Canal Fulton is nestled in the Northwest corner of Stark County near the Ohio and Erie canals and Tuscarawas River. Canal Fulton offers a close-knit community, historical sights, and popular downtown area. This small town is conveniently located just a short drive away from more metropolitan areas such as North Canton and Akron. I am happy to share with you the top five things that make Canal Fulton a unique place to visit.
---
OPA Committee Liaison Reports
Legal and Regulatory Affairs Committee (November 2, 2021)
Liaison: Sheriff Benson

Two Board of Pharmacy Vacancies coming up. (Rich Miller and Jennifer Ruddell)

Potential candidates should apply by January 7, 2022 for the Board of Pharmacy vacancy via the application on the OPA website, under Latest News. The application and details about the position can be found here. After interviews, a list of candidates is sent to the governor's office prior to announcing appointments.
Members are appointed by the governor and generally require years of experience/leadership.
Must be an active and registered voter.
TJ Grimm, past president and long time OPA member, now on Board of Pharmacy.

OPA is looking for Workforce grievance solutions. The Board of Pharmacy sent out a workforce survey and a lot of pharmacists' concerns related to work place stress and other issues.
Only approximately 860 pharmacists are registered with the department of Medicaid as providers. OPA would like more pharmacists to utilize provider status and register with the department of Medicaid.
HB 9 Dextromethorphan Bill passed in July of 2021 and mandates any dextromethorphan medications sold must be bought be people 18 years of age and older.
HB 110: Biennial Operating Budget, Legislators (Scott Lipps) helped introduce portions that would have let pharmacists create tobacco cessation programs by allowing minimal prescribing authority for Nicotine replacement therapies through protocol for patients 18 and older. (Medical association currently not in support and working to remove this)
HB 336: PBM reform bill (in support)

Would try to compel PBMs from pt steering
Reduce clawbacks
Reduce patient treatment delays
Prohibit restrictive pharmacy practices such as forcing patients to use partner pharmacies or specific pharmacies to get medications

HB 435 Vaccine Requirements

Current bill to wipe ALL vaccine requirements (NOT LIKELY TO GO ANYWHERE)

HB 37: Emergency Refill – Potential updates to Emergency refill bill

Can dispense one 30 day emergency supply in 12 month period, can dispense 2nd and third emergency supply but only 7 day supply allowed for 2nd and 3rd fills. (Not passed yet)

Topic came up of denying controversial medications such as Ivermectin and Hydroxychloroquine (HCQ)

OPA determined that issue is coming up more and more
Importance of DIAGNOSIS CODES and requesting them on prescriptions
---
News & Upcoming Events
Join NPX for our monthly Lunch + Learns on the 2nd Wednesday of each month. No registration necessary, just watch your inbox the 2nd Tuesday of the month for the Zoom link!
Interested in presenting a Lunch + Learn? NPX wants YOU! Sign up HERE.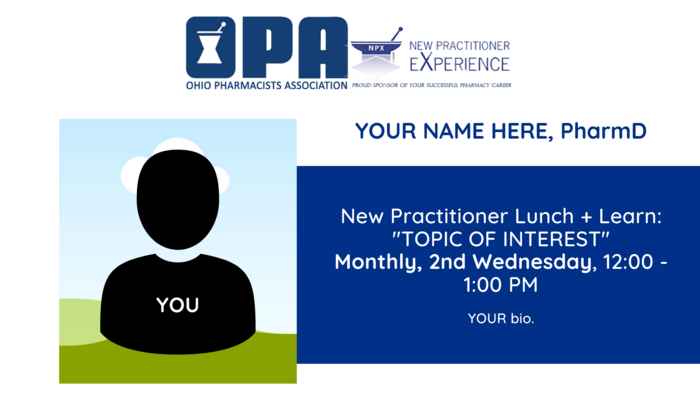 Join the New Practitioner Experience (NPX) Committee for their series of Lunch + Learns. Topics will be presented on the 2nd Wednesday of each month from 12:15-12:45 pm. Join early at 12 pm and stay after to network with other new practitioners. Watch your email for the Zoom link on December 7!
OPA is pleased to announce its live training program on Thursday, January 13, 2022 for pharmacists who plan to administer the following long-acting or extended-release dangerous drugs permitted by Ohio Revised Code 4729.45:
Opioid antagonist used for treatment of drug addiction or alcohol dependence and administered in long-acting or extended-release form;
Antipsychotic drug administered in long-acting or extended-release form;
Hydroxyprogesterone caproate for pregnant women;
Medroxyprogesterone acetate for non-pregnant women;
Cobalamin.
Join us online to hear from Stu Beatty, OPA's Director of Strategy and Transformation, and Ohio's Managed Care Plans about the impact of provider status to patient care. Register here to attend.
Interested in developing your leadership skills or pursuing a career in association management within a successful nonprofit organization? Then look no further! The Ohio Pharmacists Association Executive Fellowship is an opportunity to enhance those skills, and also receive training in advocacy for the profession, continuing education development and event coordination, to just name a few. Under the direction of OPA staff, the purpose of this fellowship is to help advance the profession while engaging with policy makers and state agencies.
February 3 - April 8: EduCon 2022 Virtual, co-hosted with Alliance for Pharmacy Compounding
This virtual event is focused on best practices in compounding and offers 11 CPE hours for pharmacists and pharmacy technicians -- and it's all aimed at ensuring your team practices with high competence and integrity! Not available to join streamed programming on February 3 and 4? No problem! Sessions will be available on-demand until April 8, 2022.
The Ohio Research and Innovative Practice Forums and Poster Session provide an opportunity for those performing research AND those transforming pharmacy practice through novel services and interventions to share their findings and experiences with pharmacists throughout Ohio during the 144th OPA Annual Conference, April 1-3, 2022. Depending on the COVID-19 situation next spring, this conference may be presented in both live and virtual formats.
OPA's UNDER 40 designation recognizes outstanding pharmacists who have exemplified leadership, excellence, and vision in their practices. This honor grants young pharmacists the opportunity to join the ranks of top-notch professionals from a variety of practice settings who have earned an UNDER 40 Award. Any OPA member may nominate any eligible OPA member for the UNDER 40 awards.
April 1 - 3: OPA's 144th Annual Conference and Trade Show
Save the date- registration opens soon!
---
Get Involved with the Launchpad Newsletter
Help contribute to the next Launchpad newsletter! Articles may be submitted for Pharmacy Trivia, Rx Impact, Financial Future, and Ohio Days. Have an idea for another article relevant to new practitioners? You can submit that as well!
Sign up for upcoming articles HERE.
Articles should be submitted in a Word document to Megan (Stephan) Hull at [email protected]. Photographs for articles should be submitted as attachments for higher quality pictures. Thank you!
---