Complete Story

Governor DeWine signs legislation to expand pharmacist long-acting injection authority!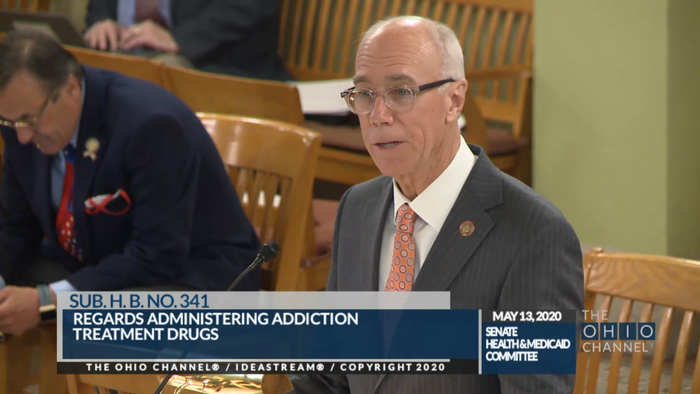 The Ohio Pharmacists Association (OPA) is pleased to announce that Governor Mike DeWine has officially signed HB 341! This important new law that seeks to combat the opioid epidemic, sponsored by Representative Tim Ginter (R-Salem), expands the portfolio of medications that pharmacists can administer to patients.
In the 131st General Assembly, OPA was successful in pushing to enact legislation that allowed pharmacists to administer certain types of long-acting injectable medications, which include opioid antagonists for drug addiction or alcohol dependence; antipsychotic drugs; hydroxyprogesterone for pregnant women; medroxyprogesterone for non-pregnant women; and cobalamin (including cyanocobalamin or hydroxycobalamin).
HB 341 expands the law beyond opioid antagonists, and allows pharmacists to administer any drug used for drug addiction or alcohol dependence.
OPA Independent SIG Chair Mimi Hart and OPA government affairs director Antonio Ciaccia both provided testimony in support of the bill during its committee process
OPA thanks Representative Ginter for his tireless advocacy on the bill, and we thank Senate President Larry Obhof and Speaker of the House Bob Cupp for advancing the measure to Governor DeWine. Lastly, thanks to Governor DeWine for signing this important legislation into law.
Stay tuned for more information about the bill's effective date, the administrative rules process, and OPA's forthcoming resources to assist members in implementing this new service.
---