Complete Story

November 2016 OPA Extern Profile: Jordan Long
Jordan Long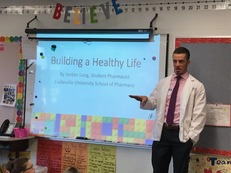 E-mail: jordanlong@cedarville.edu
Pharmacy School: Cedarville University School of Pharmacy
Undergraduate degree/institution: Bachelor of Science in Pharmaceutical Sciences, Cedarville University
Rotation Month at OPA: November 2016
How did you get interested in the profession of pharmacy?
While growing up, my mom wanted me to be a healthcare professional. I, on the other hand, had a passion for education and wanted to be a high school teacher like my oldest brother. I was torn between the two, both having their own pros and cons. While I was thinking through this decision, my best friend was planning on majoring in pharmacy. He talked to me about pharmacy and the opportunities that it affords after graduation. A lot of consideration later and remembering my mother's encouragement, I started to research the profession of pharmacy and what a pharmacy degree would afford me after graduation. After finishing my research, I determined that pharmacy was a great fit for my personality, character, and care for others well-being. This was confirmed when I went to Cedarville University for a college visit, and soon after for my undergraduate degree. It was there that my passion and love for the profession really grew.
Why did you choose OPA as a rotation site?
I enjoy my involvement as an OPA member. The opportunities that I have received from OPA over the years are invaluable to my future success. I thought it would be great to gain a perspective on how the organization operates in the office. Furthermore, I previously was a summer intern for the American Pharmacists Association and wanted to see the difference between a national and state association regarding daily operation, office staff, and leadership.
What was the most significant or surprising experience at OPA?
The most significant experience at OPA was the time spent in the office around the staff. This was due to the camaraderie and family-oriented feel that the office members have. As a student, I felt a part of the family on the very first day and never felt left out the rest of the month. The atmosphere was a blessing to be a part of and truly made my experience at OPA significant.
What other pharmacy associations/organizations do you belong to?
American College of Clinical Pharmacy, American Pharmacists Association – Academy of Student Pharmacists, American Society of Health-System Pharmacists, Ohio Pharmacists Association, Ohio Society of Health-System Pharmacists, Phi Lambda Sigma – Delta Upsilon
Hobbies
Weightlifting, spinning, running, biking, golfing, reading, traveling, drinking coffee, watching movies & shows
---