January 2014 OPA Extern Profile: Tiffany Olberding
Tiffany Olberding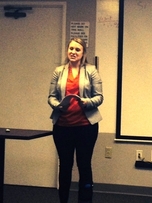 E-mail: t-olberding@onu.edu
Pharmacy School: Ohio Northern University
Undergraduate degree/institution: N/A
Rotation Month at OPA: January 2014
How did you get interested in the profession of pharmacy?
During high school career exploration class, pharmacy was selected as one of my match careers. I had always enjoyed science and was considering exploring the medical field. I met with my local pharmacist to talk about the role of a pharmacist and the many job opportunities. I was very impressed with everything pharmacy had to offer and chose to explore it further.
Why did you choose OPA as a rotation site?
I chose OPA as a rotation site because I wanted to gain a better understanding of what OPA does, as well as to learn about the many ways that pharmacy will be changing and evolving. I have always had an interest in pharmacy law and I wanted to be able to experience the legislative side of OPA.
What was the most significant or surprising experience at OPA?
I had many great experiences at OPA. The most surprising for me was the amount of bills currently being debated that have an effect on pharmacy. I was surprised to see how much of what pharmacists can and cannot do and affected by state laws and other professions.
What other pharmacy associations/organizations do you belong to?
Kappa Psi Pharmaceutical Fraternity, Gamma Delta Chapter
Hobbies:
I enjoy spending time at the beach and running.