Complete Story

Scott Manahan to be inducted into BCA Hall of Fame
BCA Hall Of Fame Inductee: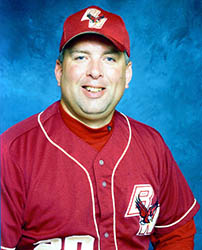 Scott Manahan
Bishop Watterson High School Columbus, Ohio
Scott is in his 30th season as a head varsity baseball coach with this his 22nd year at the helm of the Columbus (Ohio). Watterson Eagles where he is employed as the Alumni Director and Physical Education teacher. Before Watterson, he was the Head Baseball Coach at Ontario (Mansfield, OH) High School for six years. From 2008 to 2010 he was the Head Baseball Coach at Hamilton Township High School. His teams have won 16 league championships, 20 sectional titles, ten District Championships and have played in 4 State Final Fours with the last during the 2015 season, winning the Division II State Championship at Watterson in 1997. Scott has lead the Eagles to 4 Division II State Poll Championships and was named the Ohio Division II coach of the year in 1995, 1997 and 2003. Currently the Secretary of the Ohio High School Baseball Coaches Association, he has also served as a past President of the OHSBCA and the Central District Baseball Coaches Association. A member of the National High School Baseball Coaches Association (24 year charter member), he has served on the national executive board as a district representative, served a regional position on the All Star selection committee and has spoken at numerous clinics including the BCA (3), ABCA and numerous state clinics. He is also a member of the American Baseball Coaches Association for 30 continuous years. A career record of 566-247 (.700), he was inducted into the Central District Ohio Baseball Coaches Hall of Fame and the Ohio High School Baseball Coaches Hall of Fame in the class of 2005. Scott has been married for 29 years to wife Laura and has four children, Emily, Matt, Audrey and Katie.