Details


Larger Image
Developing & Managing Career Resources
Author/Editor: Susan A. Epstein, MS and Janet G. Lenz, PhD
Year:
2008
What do career service centers look like without a strong career resource library? They would resemble a turtle without a shell or a football player without a helmet... you get the drift. Something would be missing! Susan Epstein and Janet Lenz have written an extraordinarily significant book. They provide readers with concrete answers to a real question: "How do we systematically manage career resources with the ever-increasing demands for information and the overabundant amount of information available on the Internet? In this book readers will also get a unique look "behind the scenes" in managing career resources, all the technical and practical issues. Innovative and clear ideas, as well as an unmatched level of expertise make this book a one-of-a-kind. Simply put, if you manage (or would like to manage) career resources, this book is a must! Monograph.
A review of this book can be found in the Career Convergence web magazine.
Click here to view the Table of Contents for Developing and Managing Career Resources
Keywords:
Category: Career Information Resources/Curriculum/Activities
Category: Career Development Theory and Models
Category: Individual/Group Counseling and Facilitating Skills
Category: Assessment
Category: Coaching/Consultation/Performance Improvement
Category: Supervision
Stock#: 953 Mfr#: ISBN: 978-1-885333-19-3
Publications
Featured Product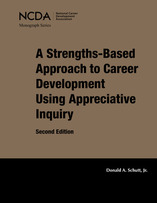 A Strengths-Based Approach to Career Development
Using Appreciative Inquiry, 2nd Edition
On Sale, February 1-29, 2020 for the discounted price of $20.00
(Print book only; shipping and handling charges not included in the sale price).
The Strengths-Based Approach is a way of seeing the world as positive and focuses on building upon strengths rather than on fixing deficits. This updated monograph details the approach and includes activities and a participant guide to move the Strengths-Based Approach to career development into practice. (Schutt, 2018)
Monthly Specials
---
Read More!
Many of our products include links to Book Reviews or Excerpts, which are also archived in our Career Convergence web magazine.