12/03/2019
The Career Development Quarterly Available Online
December 2019 issue posted for Members only
The CDQ is a benefit of NCDA membership. Members may access the electronic version of the Journal by logging in and clicking on Members Only Resources under their name, on the upper right side of the website.
The December 2019 issue of the CDQ is online and the Table of Contents is listed below. Read more details about the CDQ by clicking on Publications: Career Development Quarterly.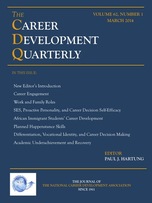 THE
CAREER
DEVELOPMENT
QUARTERLY
Volume 67 Number 4 December 2019
CONTENTS
Articles
College Student Psychological Distress: Relationship to Self-Esteem and Career Decision Self-Efficacy Beliefs
Mindi N. Thompson, Pa Her, Anna Fetter, and Jessica Perez-Chavez
The Planned Happenstance Career Inventory: A Cross-Cultural Comparison
Ji Hae Lee, Soohyun Cho, Sujung Lee, and Sang Min Lee
Affect in Daily Career Decision Self-Efficacy and Career Choice Anxiety
In-Jo Park, Junehee Lee, Minhee Kim, Ji-Yeon Kim, Seungmin Jahng
Rural Appalachian High School Students' College-Going and STEMM Perceptions
Pamela H. Rosecrance, Danielle Graham, Sam Manring, Katherine D.
Cook, Erin E. Hardin, and Melinda M. Gibbons
Discerning Work as a Calling: The Role of Job Crafting
Missiliana Riasnugrahani, Corina D. Riantoputra, Bagus Takwin, and
Hana Panggabean
Brief Reports
A Study of Clinical Change in Individual Career Counseling
Francis Milot-Lapointe, Yann Le Corff, and Réginald Savard
Student Veteran Career Transition Readiness, Career Adaptability, and Academic and Life Satisfaction
Arpita Ghosh, Matthew Kessler, Katelyn Heyrman, Brett Opelt,
Matthew Carbonelli, and Nadya A. Fouad
---