Membership Categories
Member benefits are the same for all membership categories. Career development professionals can Join NCDA directly, or join through the American Counseling Association (ACA). New Membership details are to be announced by November 1, 2014. Click here to read an introductory article about the New Membership Categories And Designations.
REGULAR
While most NCDA members hold master's degrees in counseling or related fields, there is not a minimum educational requirement to become an NCDA Regular Member. Anyone who has an interest or involvement in career development may join. Regular members join directly through NCDA Headquarters.
NEW PROFESSIONAL & STUDENT & First Timers
Students enrolled in programs preparing them for counseling and other career development areas are eligible to become student members of NCDA. Student members may join through NCDA directly, or through ACA. New Professionals are those graduates in their first year of employment in the career development field. New Professionals may also be anyone new to NCDA regardless of their employment history. New Professionals are offered reduced membership dues for a limit of one-year.
RETIRED
Retirees who have been an NCDA member for at least ten years and are retired from the counseling profession can apply for retired membership. Retired members should apply for membership directly through NCDA.
PROFESSIONAL
Professional members are those members who join through American Counseling Association (ACA) and NCDA through the ACA joint membership program. To qualify for ACA membership, one must hold a master's degree or higher in counseling or a closely related field from a college or university that was accredited by the Council for Higher Education Accreditation.
In this section

Career Developments Magazine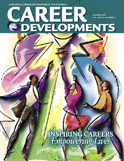 Career Developments is a themed publication offering articles that balance a broad vision with practical applications. All NCDA members receive this as a benefit of membership. Learn more about Career Developments.
NCDA Partnerships:
NCDA has been approved as a member organization of the
Automation Federation
. The Automation Foundation and NCDA are working together to convey the message to students, job seekers, returning Veterans, and those in career transition that pursuing a career in the automation profession can be rewarding, and is essential to the long-term viability of our nation's and the world's advanced manufacturing effort. Click here to read the current
AF/NCDA Workforce Position Statement
.
If your organization would like to make such an offer to NCDA or its members, please contact dpennington@ncda.org
Membership Question?
If you have a question about Membership, please contact NCDA Headquarters by calling, toll-free 1-866-FOR-NCDA. Or email Natalie Scrimsher, Membership Director, at nscrimsher@ncda.org. Your membership profile is available when you log on to MyNCDA (located in the far right side of the purple navigation bar on each webpage.