Watch here for applications for Leadership Academy IX Class of 2014-15.
NCDA Staff Liaison
Mary Ann Powell
National Career Development Association
305 North Beech Circle
Broken Arrow, OK 74012
Phone: (918) 663-7060
Fax: (918) 663-7058
mpowell@ncda.org
Leadership Academy Classes

Career Developments Magazine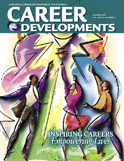 Career Developments is a themed publication offering articles that balance a broad vision with practical applications. All NCDA members receive this as a benefit of membership. Learn more about Career Developments.