Leadership Academy
The Leadership Academy was created in 2006 with the ultimate goal of the identifying and nurturing future generations of NCDA Leaders. Up to eight NCDA members will be selected to join this hands-on, highly experiential leadership development opportunity designed specifically for promising national and state career development association leaders. NCDA's Leadership Academy will refine and strengthen the leadership skills of those selected for this dynamic program.
Eight classes of the Leadership Academy have convened. See links on the right to view Past, Present, Future Class information. Be sure to read about Class Projects and Class Presentations at the NCDA Conference. Click here to read about the inaugural Leadership Academy class in an article published in Career Convergence.


The Class of 2016 NCDA Leadership Academy Application Submission is NOW CLOSED! The Class of 2017 application will be posted early Fall 2015. Check back for more details.
Eight individuals will be selected for this prestigious opportunity. Applications for the 2016 graduating class are due December 2, 2014. Notifications will be sent to all applicants no later than January 31, 2015. The Class of 2016 will meet during the 2015 Annual NCDA Global Conference, June 29-July 2, 2015 in Denver, Colorado.
Leadership Academy Classes

Career Developments Magazine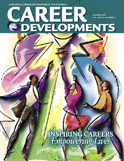 Career Developments is a themed publication offering articles that balance a broad vision with practical applications. All NCDA members receive this as a benefit of membership. Learn more about Career Developments.