NVGA/NCDA PAST PRESIDENTS
1913-14

Frank Leavitt

1914-16

Jesse B. Davis

1916-18

Meyer Bloomfield

1918-20

Frank V. Thompson

1920-21

John Marks Brewer

1921-22

Helen T. Woolley

1922-23

Anne S. Davis

1923-24

Harry K. Kitson

1924-25

Edward Rynearson

1925-26

Dorthea de Schweinitz

1926-27

W. Carlson Ryan, Jr.

1927-28

A. H. Edgerton

1928-29

Mary H.S. Hayes

1929-30

Richard D. Allen

1930-31

Emma Pritchard Cooley

1931-32

George W. Myers

1932-33

Mildred E. Lincoln

1933-34

William Martin Proctor

1934-35

Susan J. Ginn

1935-36

Arthur J. Jones

1936-37

Leona C. Buchwald

1937-38

Franklin J. Keller

1938-39

Frances W. Cummings

1939-40

Rex B. Conliffe

1940-41

Mary P. Corre Foster

1941-42

George E. Hutcherson

1942-44

Margaret Bennett

1944-46

Marion R. Traube

1948-49

Warren K. Layton

1949-50

Robert Hoppock

1950-52

Clifford E. Erickson

1952-53

Max F. Baer

1953-54

C.C. Dunsmoor

1954-55

Clifford P. Froehlich

1955-56

Charles E. Odell

1956-57

Blanche B. Paulson

1957-58

Raymond N. Hatch

1958-59

Edward C. Roeber

1959-60

William C. Cottle

1960-61

C. Winfield Scott

1961-62

Helen Wood

1962-63

Harold C. Cottingham

1963-64

Harold R. Reed

1964-65

Kenneth B. Ashcraft

1965-66

David V. Tiedeman

1966-67

W. Wesley Tennyson

1967-68

Henry Borow

1968-69

S. Norman Feingold

1969-70

Donald E. Super

1970-71

John G. Odgers

1971-72

William C. Bingham

1972-73

Norman Gysbers

1973-74

Carl O. McDaniels

1974-75

Ester E. Matthews

1975-76

James W. Kelz

1976-77

George E. Leonard

1977-78

Thelma C. Lennon

1978-79

Daniel Sinick

1979-80

Edwin L. Herr

1980-81

Harry N. Drier

1981-82

Katherine Cole

1982-83

Juliet V. Miller

1983-84

Robert L. Smith

1984-85

Edwin A. Whitfield

1985-86

Sunny S. Hansen

1986-87

Linda A. Pfister

1987-88

Duane Brown

1988-89

Lee J. Richmond

1989-90

David Jepsen

1990-91

Carole W. Minor

1991-92

Deborah P. Bloch

1992-93

Alfred K. Gallagher

1992-93

Kenneth B. Hoyt

1993-94

Howard Splete

1994-95

Jane Goodman

1995-96

Dennis W. Engels

1996-97

JoAnn Harris-Bowlsbey

1997-98

Michael Shahnasarian

1998-99

Mark Pope
Conference: Portland, OR

1999-00

Nancy Schlossberg
Conference: Pittsburgh, PA

2000-01

Diane Kjos
Conference: Tucson, AZ

2001-02

Roger Lambert
Conference: Chicago, IL

2002-03

Laura Ward
Conference: Denver, CO

2003-04

Spencer Niles
Conference: San Francisco, CA

2004-05

Janet Lenz
Conference: Orlando, FL

2005-06

Martha Russell
Conference: Chicago, IL

2006-07

Barry Chung
Conference: Seattle, WA

2007-08

Darrell Luzzo
Conference: Washington, DC

2008-09

Judy Hoppin
Conference: St. Louis, MO

2009-10

Pat Schwallie-Giddis
Conference: San Francisco, CA

2010-11

Cheri Butler
Conference: San Antonio, TX

2011-12

Debra Osborn
Conference: Atlanta, GA

2012-13

Rich Feller
Conference: Boston, MA

2013-14

Lisa Severy
Conference: Long Beach, CA

2014-15

Mark Danaher
Conference: Denver, CO

2015-16

Cynthia Marco Scanlon
Conference: Chicago, IL

2016-17

David M. Reile
Conference: Orlando, FL

2017-18

Paul Timmins
Conference: Phoenix, AZ
In this section

NCDA Long Term Plan
In April 2015, the NCDA Board announced an updated Long Term Plan.
Click here to read the seven areas the Board has decided to focus on and the steps being taken.
Career Developments Magazine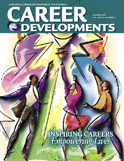 Career Developments is a themed publication offering articles that balance a broad vision with practical applications. All NCDA members receive this as a benefit of membership. Learn more about Career Developments.

ATTENTION STATE LEADERS:
Click here for the State Division Leaders' Handbook
Watch for email from NCDA to complete the new Leadership Directory!