International Affiliates
---
The Asia Pacific CDA was welcomed in 2013. Contact Soonhoon Ahn <shahn@ahnconsulting.com> for more information or visit the website at http://www.asiapacificcda.org/
In June 2012, two new international affiliates joined NCDA:
Welcome Peru International Affiliate. For information, contact Jorge Benites Robles jorgebrobles@hotmail.com.
Students interested in studying at the Universidad San Ignacio de Loyola in Peru can view the USIL Programs and USIL Brochure.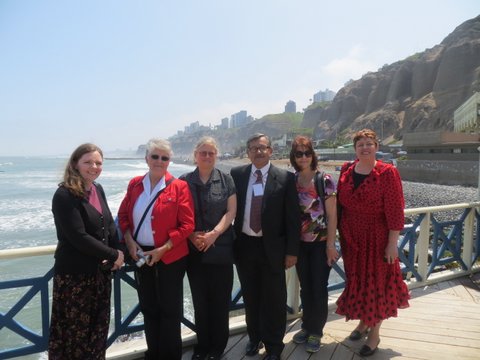 Welcome Career Consultant Forum of South Korea.
President: Eunmee Hwang.

For information, view the website at www.ccforum.kr or
email the office at ccf@ccforum.kr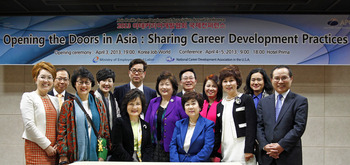 In May 2010, ElNamaa joined NCDA as an International Affiliate (now operating as AM Foundation):
AM Foundation
Contact: Ahmed Mostafa
28 Elmandrassa Street
Omrania Sharkia
Giza, Egypt 12211
Phone: +20108553600
amostafa@amfmena.org
http://www.amfmena.org
In 2002, NCDA welcomed Japan as it's first International Affiliate:
JAPAN




Contact: Ryoji Tatsuno


Japan Career Development Association
2-14-5 Nihonbashi Kakigara-cho
Chuo-ku, Tokyo 103-0014, JAPAN
Phone: 81-3-6661-6221
r-tatsuno@j-cda.jp
michi-mizuno@nmp-g.jp
---
International guests are welcome at NCDA's annual conference.
---
Members interested in international issues, may contact the Global Connections committee - formerly the International Career Issues committee. Click here to read about the name change or contact one of the Co-Chairs: Brian Hutchison and Vera Chapman
---
Potential affiliates may read the information below then contact NCDA Headquarters.
NCDA INTERNATIONAL AFFILIATE STATUS
NCDA has from time to time formed working relationships with various associations, corporations and organizations in other countries. In general this type of activity is encouraged. The following are some guidelines to follow when forming such relationships.
Mission and Purpose
-- All relationships with International Entities should serve the underlying mission of NCDA, which is to support career development across the lifespan.
Types of Activities
-- Types of activities may include those that parallel NCDA efforts within the US including:
Develop professional ethics statements.
Develop standards and evaluate career information materials.
Conduct conferences and other professional development activities.
Build leadership capacity, and design association bylaws and governance structures.
Develop special interest groups to facilitate networking.
Conduct research on career development and career counseling.
Identify and disseminate information on exemplary career programs.
Develop training materials.
Guidelines to Govern International Relationships -- Several considerations are important when NCDA develops relationships with international entities.
Cooperation with In-Country Career Associations -- NCDA is a member of the International Association for Educational and Vocational Guidance. As such, it is important for NCDA to inform its partner association in the country from which the request comes.
Non-Compete with NCDA Member Interests -- NCDA has a responsibility to its own members. NCDA should not engage in activities or agreements that put NCDA in direct competition with its own members.
Endorsements and use of NCDA Name -- It is important that any agreement with other countries clearly state the ways in which the NCDA name will be used in public statements or endorsements. Any such arrangements need to be based on objective criteria and systematic review by NCDA.
Cost Recovery Requirement - In any agreement with an international entity, funding must cover all NCDA expenses including indirect costs.
Avoidance of Non-Compete or Exclusivity Clauses -- NCDA should remain open to working with many international entities. For this reason, all agreements should acknowledge NCDA's right to work collaboratively with other international entities even from the same country. Agreements should exclude any non-compete language.
For-Profit and Non-Profit Entities -- NCDA should work with both for-profit and non-profit entities. When activities will result in profits, agreements should include royalties or other profit-sharing arrangements for NCDA.
Process for Approving Requests from International Entities
The following process should be used in a timely manner when developing and implementing agreements with international entities:

Develop a Draft Agreement -- The NCDA President, in consultation with the International Committee Chair and NCDA's Treasurer works with the international entity to develop a draft agreement for review by the NCDA Board of Directors.
Include Required Documents -- NCDA does require a copy of the organization bylaws,
Approval by NCDA Board -- The NCDA Board of Directors will review the agreement as submitted by the NCDA President and will approve, modify, or reject the agreement.
Implementation of Agreement -- The NCDA Board will designate a project coordinator (may be a NCDA staff member or volunteer) that is responsible for implementing the agreement. The project coordinator will submit periodic progress reports to the NCDA Board.
---
Requests for Translation and Reprint of CDQ Articles

NCDA encourages the translation and reprint of CDQ articles. Such requests should be submitted to NCDA headquarters and forwarded to the current CDQ editor for review. If the editor rejects a request, a justification should be made to the NCDA president. NCDA Headquarters will process all approved requests for translation and reprints and appropriate fees will be charged to the requester.